Major events such as the general election and the US Fed tapering programme are likely to keep investors tizzy in 2014. Here's a look at some companies that are poised to perform in the new year
The domestic markets may touch new highs in the next year post general elections, attracting offshore funds despite an expected bumpy period for emerging markets as the US Fed shifts the monetary policy. Moreover, the various efforts taken by the government and the RBI to bring down Current Account Deficit, to cushion the free fall of rupee, boost manufacturing and curb rising inflation have indeed sent out positive vibes, are likely to translate into growth numbers in the coming years.
Moreover, the factors such as improvement in economic activity, better policy decision-making by the newly elected stable government post election and an improvement in the investment climate are likely to stimulate bulls in the markets.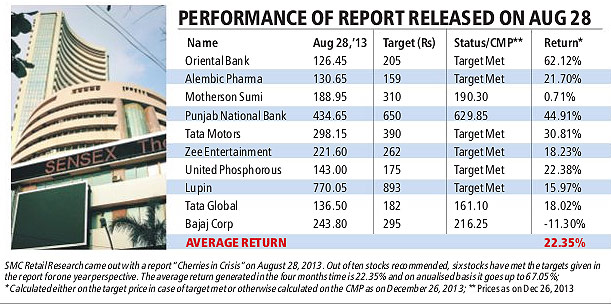 It is expected that the general elections promise a quickness in policy making and the election could murmur the reforms engine in many long-pending areas of economic importance. In 2014, the global economy is likely to perform better comparatively. The developing economies will enjoy relatively high growth while the US will continue with real growth, driven by a reduction in fiscal austerity, a resurgent housing market.
Adani Ports and SEZ
In the last few years, the company has reported steady growth in its revenue and profits. Going forward, the company is likely to maintain the growth momentum on the back of huge capex undertaken by the company. We expect to see a price target of Rs 219 in one year on one year average P/E of 20.98x and FY15 (E) earnings of Rs 10.45.
In the last few years, the company has delivered strong financial performance. The company is focused on exploration across the asset portfolio both in India and core areas internationally and has also started the seismic survey in its South Africa block, which is in line with company's exploration led growth strategy focused on replacement and growth of reserves leading to long term sustainable value creation. We expect the stock to see a price target of Rs 421 in one year time frame on a target P/E of 7x and FY15 (E) earnings of Rs.60.21.
With a unique combination of businesses,