New estimates released by the World Health Organisation on Tuesday state about 7 million people in the world died because of exposure to air pollution in 2012. This is an eighth of all deaths in the world.
With a total of 5.9 million pollution-related deaths, low and middle income countries in Southeast Asia — including India — and countries in the Western pacific were the worst off.
Union health ministry had set up a committee in January 2014 to examine the health effects of air pollution.
"Risks from air pollution are far greater than previously thought, particularly in terms of heart disease and strokes. Few risks have a greater impact on global health today than air pollution. The evidence signals the need for concerted action to clean up the air we breathe," said Dr Maria Neira, director of WHO's department of public health, environmental and social determinants of health.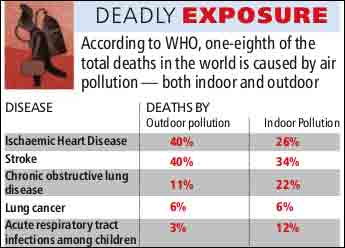 The biggest culprits for indoor air pollution in countries like India are solid fuels like wood crop wastes, charcoal and coal used in open fires for cooking. Globally about 3 million people cook this way, often in poorly ventilated spaces where indoor smoke can be up to 100 times more than acceptable levels for particles like soot that penetrate into lungs.

With more than 50% of premature deaths among children due to pneumonia caused by inhaling this soot and 3.8 million premature deaths annually due to non-communicable diseases like stroke, ischaemic heart disease, chronic obstructive pulmonary disease and lung cancer attributed to exposure to household air pollution, indoor air pollution is the cause of high levels of maternal and infant mortality WHO estimates state outdoor pollution was responsible for 3.7 million premature deaths worldwide in 2012, of which 88% were in countries in Southeast Asia and Western Pacific due to burning of agricultural waste, forest fires and charcoal production.

Photos: Former Infosys honcho V Balakrishnan declares Rs 189-cr in assets

"It will not suffice to say that pollution is a side-effect of development. The Chinese prime minister in his address to the state council three weeks ago had said the country would fight pollution with the same urgency with which it fought poverty. Unless we in India respond immediately to this major public health challenge, we stand the risk of condemning three generations to the ill health and untimely death because of