India's exports grew an annual 12.4% in May, the highest pace since October last year, in what officials called an 'encouraging sign' and early refection of a pick-up in global demand.
The double-digit growth after six months of lower growth was driven by labour-intensive sectors like readymade garments and engineering goods as well as by exporters of petroleum products (mostly Reliance Industries, which exports from its Jamnagar plant).
Imports in May were 11.4% lower than a year ago, but the decline was almost entirely driven by the huge fall in gold imports. Imports, excluding oil and gold, grew 0.5% in May, bringing to an end a 10-month spell of negative growth in this category. Analysts said this signalled an incipient recovery in domestic demand.
At the same time, the trade deficit for the month was $11.2 billion, the highest since July 2013 when it was $12.2 billion.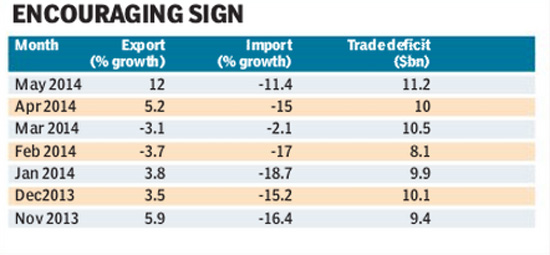 On the cards to boost export growth are measures including easing of gold import curbs for the benefit of gems and jewellery sector (where the yellow metal is a key input), as well as removal of Minimum Alternate Tax (MAT) and Dividend Distribution Tax (DDT) on Special Economic Zones (SEZ), the commerce secretary Rajeev Kher indicated.
Also, the government will hold a bilateral meet with the US – one of India's major trade partners and a traditional export market – soon at the commerce secretary and commerce minister level to address all the outstanding issues, he added.
Given a possible monsoon deficit, Kher said the government was taking a 'nuanced' approach on agriculture exports. "Agri exports, as far as possible, should be open, but clearly they are underlined by the attenuating factors of domestic demand and supply." He said the government was monitoring on a daily basis the price situation of milk, onion and pulses, and will take action if required, adding that, currently there is no concern on 'wheat and rice'.
On export growth, Kher said, "It is definitely an encouraging sign... There is a positive spirit and if this trend continues the next month, then I will definitely be saying that there is a revival (in global demand)." On exports target for 2014-15, he said, "We are working towards $1 billion exports on a daily basis."
According to Crisil, "Historical evidence suggests that global demand is a far more important factor than exchange rate in