Reliance Power will fund the purchase of the hydropower portfolio it proposes to buy from Jaiprakash Associates, the enterprise value for which is pegged at R12,000 crore, by acquiring R7,100 crore of debt, sources close the transaction said, declining to be identified, reports fe Bureau in Mumbai. RPower will fund the remaining R4,500 crore to be paid directly to Jaiprakash Power Ventures (JP Power) by raising fresh debt of R2,400 crore and the rest through internal accruals, persons with direct knowledge of the transaction said. RPower's gross debt at the end of March 2014 was R27,714 crore; the debt to equity ratio after the transaction could go up to 2.05 times from 1.55 times, JPMorgan analyst Sumit Kishore wrote on Monday. The company on Sunday announced it had signed a memorandum of understanding with Jaiprakash Associates to buy its subsidiary JP Power's portfolio of hydel assets. The acquisition comes six years after RPower's initial public offering that raised R11,500 crore and will give the R-Adag company a portfolio of sizeable revenue-generating assets.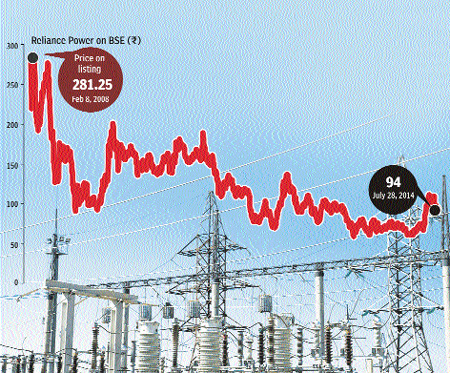 The three projects, located in Himachal Pradesh and Uttarakhand, generate net profits of R500-600 crore while the outstanding debt obligation is estimated at R7,100 crore.
Reliance Power reported a net profit of R1,026 crore for FY14 and expects to record a similar number for FY15. Along with a cash and cash equivalents balance of R2,782 crore (as on March 31), the company expects to comfortably fund the equity aspect of the deal, the source said. "If necessary, the company will bring in a financial investor for a minority share," the person added. According to Bloomberg, RPower had cash to the tune of around R2,782 crore as on March 31. It plans to utilise a portion of this to pay JP Power, along with raising some fresh equity from financial investors, the person quoted earlier said.
" A fair consideration for the three hydro assets would be about R11,000 crore, assuming no other corporate debt is to be assumed," Kotak Institutional Equities wrote in a report.
Reliance Power has expertise in raising cheap debt, as witnessed in the loans raised for the Sasan project and the company will consider an extended maturity over a 20-year period, which will reduce the rate of interest.
Reliance Power expects to close the deal in six months, according to the source. Approximately 2,800