Rating: ADD (Under review)
Solid quarter: Bharti Airtel reported a solid overall set of numbers for Q1FY15 with 18% year-on-year Ebitda growth despite another weak quarter for Africa operations. India wireless Ebitda (earnings before interest, taxes, depreciation, and amortisation) growth of 25% y-o-y (ahead of Idea's 23%) was the key highlight of the quarter. India business metrics and cost control reassure us on our thesis on India wireless fundamentals. We believe that Jio-related risks are amply baked in and remain positive on both Bharti and Idea. We shall review our estimates on Bharti post the earnings call.
Consolidated results ahead of expectations... Consolidated Q1 revenues, Ebitda, Ebit and recurring net income were 1.5%, 3.4%, 6% and 10% ahead of our expectations, respectively. The beat was led by better-than-expected performance in the India operations–wireless shone in particular while DTH and telemedia also reported strong results. Consolidated revenues for the quarter came in at Rs 230 bn, +13.3% y-o-y and +3.3% q-o-q. Ebitda was Rs 77.2 bn, +18% y-o-y and +5.7% q-o-q while adjusted recurring net income was Rs 13.6 bn, +92% y-o-y. Reported net income of Rs 11.1 bn included exceptional loss of Rs 2.52 bn on account of settlement of a few disputes and associated tax implications. Ebitda margin expanded 130 bps y-o-y and 70 bps q-o-q to 33.6%.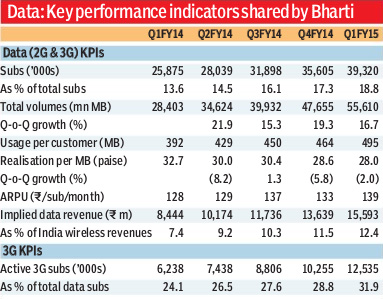 …led by strong India business delivery: At an overall level, Bharti's India business delivered 12% y-o-y growth in revenues and 22% y-o-y growth in Ebitda as Ebitda margin expanded 310 bps y-o-y to 38%. India business net profit grew 112% y-o-y. India business net income was R23.5 bn for the quarter. Solid India business performance was led by robust delivery in the wireless business. India wireless revenues grew a strong 5.5% q-o-q and 10% y-o-y to R127.5 bn while wireless Ebitda grew a healthier 11.7% q-o-q and 25% y-o-y to R47.1 bn. Incremental Ebitda margin in this business was nearly 70%, depicting the strong flow-through dynamic of RPM-led (revenue per minute) growth. Among other businesses, DTH posted excellent improvement in profitability—880 bps y-o-y expansion in Ebitda margin drove 90% y-o-y Ebitda growth on 21% revenue growth. Telemedia had a good quarter, long distance and passive infra businesses were steady.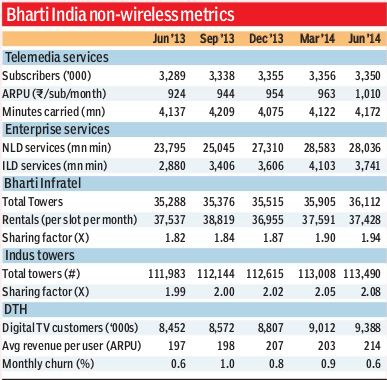 Africa wireless–weak again: Performance in Africa operations was the only key negative in the earnings