With no closure in sight regarding Malaysia Airlines MH370 flight, the country's image has received yet another debilitating blow. A Chinese tourist and a Philippine hotel worker were abducted by armed men at a diving resort in Malaysia's eastern state of Sabah, Malaysian media reported on Thursday.
The two abducted women were at the resort's jetty on Wednesday night when the men arrived by boat, Malaysia's New Straits Times newspaper cited Eastern Sabah Security Command Director Mohammad Mentek as saying.
Full Coverage: Malaysia Airlines MH370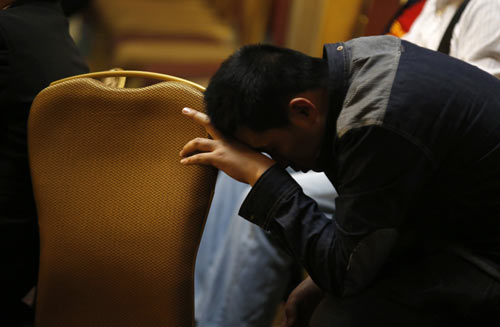 A relative of a passenger aboard Malaysia Airlines Flight MH370 reacts after attending a video conference with the Malaysian government and Malaysia Airlines officials from Kuala Lumpur, at the Lido Hotel in Beijing.The search for the missing Malaysia Airlines Flight 370 resumed on Wednesday, even as senior Australian officials warned that bad weather and a lack of reliable information were seriously impeding efforts to locate the plane\'s wreckage.(Reuters)
An employee at the Singamata Reef Resort, contacted by Reuters, confirmed an abduction had taken place, but declined to provide details. Malaysian police could not immediately be reached for comment.
The report comes at a time when Malaysia's image has been tarnished in China by negative publicity over its handling of the March 8 disappearance of a Malaysia Airlines flight with 239 people aboard, most of them Chinese nationals.
Sabah has become a popular tourist destination for Chinese in recent years, but has faced security problems due to its proximity to the restive southern Philippines.
Also read - Malaysia Airlines Flight MH370: Nuclear submarine, Oscar-winning director Peter Jackson join hunt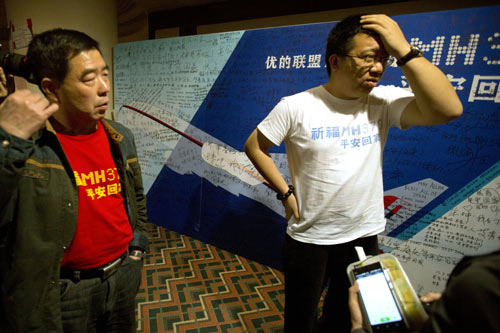 Steve Wang, a representative from the committee for relatives of Chinese passengers onboard the Malaysia Airlines MH370 talks to journalists after a closed door meeting with Malaysian officials via teleconference in Beijing, China. A Malaysian police investigation into the pilots of the missing Malaysian jet might turn up nothing, the force\'s chief said. while the head of the international search effort also acknowledged that an air hunt to spot wreckage on the surface of the southern Indian Ocean was not certain of success. The Chinese words on the t-shirts read \'Pray for MH370 safe return\' (AP)
Last February, more than 100 armed Filipinos landed by boat and launched attacks on Malaysian security forces, sparking a major security crisis in the area close to