Air India's performance in FY14, across a host of parameters, has been better than that in FY13. This is important in the context of the several goals the national carrier needs to achieve as per the turnaround plan (TAP) that allows the airline to seek cash infusion from the government. The airline's domestic load factor rose to 75.8% up from 73.7% in FY13 while the international load factor increased to 73% from 71.8%. The airline also managed a high yield per kilometer, and a substantial increase in the number of passengers carried. The flag carrier also registered a yield (per km) of R6.08 on its international routes and R3.60 on domestic routes.
The target On Time Performance (OTP) of the airline stood at about 90% from all metros, which was close to the TAP target of 93% which is to be achieved by 2020.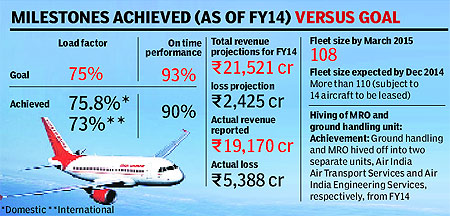 In 2012, civil aviation minister Ajit Singh, sanctioned a plan for the debt-ridden airline — whose total debt is over R44,000 crore – that envisaged a massive fund infusion of R30,000 crore in installments by 2020. The funds were sanctioned on the condition that the airline achieve higher operational efficiency and was able to restructure debt during the period.
The financial restructuring plan of Air India by SBI Capital Markets was approved by the government in 2012. According to documents, a which have been seen by FE, the airline was set a target of 75% load factor. While Air India achieved over 75% load factor in the domestic segment during FY 2014, it is yet to achieve this in the international segment where the carrier faces stiff competition from cash-rich West Asian airlines specially on its West-bound routes.
The airline is rationalising several of its international routes and networks in order to achieve a higher load factor.
To achieve this, the airline withdrew from loss-making routes like Delhi-Lucknow-Sharjah, and Delhi-Amritsar-Sharjah during FY14 while it discontinued one of the two daily services on the Delhi-Dubai-Delhi route during the same period. In addition, services on Varanasi-Kathmandu route were also withdrawn during May 2013. Apart from this, the Gaya and Rangoon services, which used to operate round the year, are now being operated only during the peak season of April to October to curtail losses along with the second non-stop flight between Bangalore and Male.