Inching closer to launch its operations, new no-frill carrier AirAsia India today took delivery of its first Airbus A320 as it landed in Chennai after flying in from Toulouse headquarters of the European aircraft manufacturer.
"Great news! India's latest airline, AirAsia India, has taken delivery of its first A-320 equipped with Sharklets," Airbus tweeted with a picture of the jet painted red and the name of the airline written in white.
Sharklets are the folded wing tips that helps an aircraft to glide smoothly, thereby reducing fuel burn and emission.
However, the no-frill carrier, a joint venture between Malaysia's AirAsia Bhd, Tata Sons Ltd and Arun Bhatia of Telestra Tradeplace Pvt Ltd, is still awaiting a flying license from aviation regulator DGCA.
The A-320, bearing call-sign VT-ATF, landed in Chennai, where the headquarters of AirAsia India is located, at around 0930 hours this morning. The plane, configured in an all- economy layout with 180 seats, was greeted with a water cannon salute as it taxied on the runway, an airline statement said.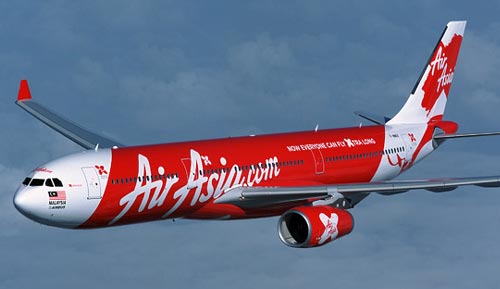 AirAsia India is still awaiting a flying license from aviation regulator DGCA.
"AirAsia India family takes immense pride in welcoming home it's first aircraft which has just rolled of the manufacturing line from Toulouse", AirAsia India's CEO Mittu Chandilya said.
"The arrival of our first A320 signifies that we are a step closer to our dream to create a new benchmark in the low-cost air travel category", he said.
Earlier in a tweet on the microblogging site, he had said, "Our first iron bird just left Toulouse to come home to India. Can't wait to revolutionise Indian aviation."
AirAsia India was granted in-principle approval for the import of ten A320-200 aircraft in December last year. It plans to operate a fleet of A320-200 aircraft, initially with 4-5 planes and quickly expand it to ten within a year.
In April last year, the Foreign Investment Promotion Board had approved the USD 30 million deal to launch AirAsia India, which received a no-objection certificate (NOC) from the Civil Aviation Ministry a few months later.
AirAsia India's entry is expected to intensify competition in the Indian aviation industry, with the new entrant likely to offer low fares to undercut other airlines.
Malaysian carrier AirAsia's group CEO Tony Fernandes said in a tweet: "Airasia India first aircraft arrives in India. In Chennai. Wow. Still