It was billed as the biggest private financing deal in the history of China.
In September 2012, the Alibaba Group announced that it had completed a $7.6-billion deal to buy back half of Yahoo's stake in it. The giant e-commerce company raised part of the money by selling shares to select investors, notably China's sovereign wealth fund and three prominent Chinese investment firms.
What Alibaba did not detail was the deep political connections of the investment firms, Boyu Capital, Citic Capital Holdings and CDB Capital, the China Development Bank's private investment arm.
Their senior executive ranks included sons or grandsons of the most powerful members of the ruling Communist Party, according to an analysis by The New York Times. Documents reviewed by The Times also show that a fourth investor bought Alibaba shares that month: New Horizon Capital, a private equity firm co-founded by the son of China's prime minister at the time, Wen Jiabao. The new revelations only demonstrate the paucity of information about existing shareholders in what is poised to be the biggest initial public offering of this year.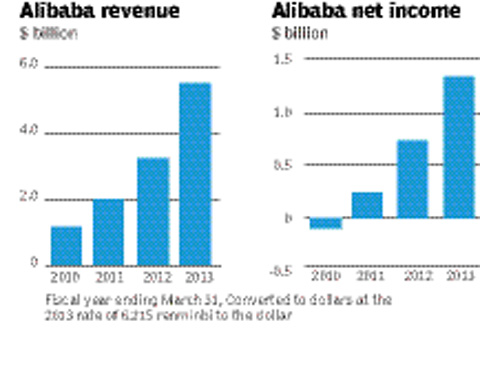 As part of its regular filings for the offering, Alibaba disclosed the owners of about 70% of its shares. The group includes big foreign investors like Yahoo and the Japanese communications company SoftBank, as well as top executives such as Alibaba's chairman, Jack Ma, and its vice chairman,
Joe Tsai.
But less is known about other shareholders, whose sway may be significant even if their stakes are not. The situation raises questions about the transparency and operations of Alibaba, which is set to go public in the United States in the coming months.
"It would take, at this point, a seismic effort to topple an Alibaba," said Anne Stevenson-Yang, a co-founder of the Beijing firm J Capital Research, which specialises in detailed analyses of Chinese companies. "They've got so many different allies across so many different ministries."
Such politically connected investors will most likely reap a bonanza when Alibaba goes public, an offering that analysts estimate could value the company at more than $200 billion. At that level, even a 1% stake would be worth $2 billion.
Already, their investments have performed spectacularly well.
New Horizon Capital reported that at the end of 2013 the value of its Alibaba stake stood at 3.73 times the cost of its initial investment, according to the documents — financial statements from one of