A criminal probe into four specific areas including hijacking and sabotage has cleared all 227 passengers aboard the ill-fated Flight MH370, Malaysian police chief said today.
Investigators have cleared all 227 passengers of any role in hijacking or sabotage and of having personal or psychological issues that might have played a role in the plane's disappearance on March 8, Inspector-General Khalid Abu Bakar said.
There were 14 nationalities represented in the 227 passengers and 12 crew travelling from Kuala Lumpur to Beijing. The majority - 153 people - were Chinese. There were five Indians and one Canadian of Indian-origin.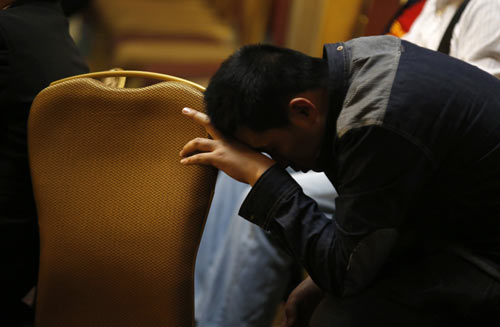 A relative of a passenger aboard Malaysia Airlines Flight MH370 reacts after attending a video conference with the Malaysian government and Malaysia Airlines officials from Kuala Lumpur, at the Lido Hotel in Beijing.The search for the missing Malaysia Airlines Flight 370 resumed on Wednesday, even as senior Australian officials warned that bad weather and a lack of reliable information were seriously impeding efforts to locate the plane's wreckage.(Reuters)
Malaysia Airlines Flight MH370: Nuclear submarine, Oscar-winning director Peter Jackson join hunt
Investigators believe the Beijing-bound flight was diverted deliberately by someone on board not long after taking off from here. But with no wreckage from the Boeing 777-200 yet detected, despite a massive multi-nation hunt in the southern Indian Ocean, they have few clues to help them determine who caused the diversion and whether it was malicious.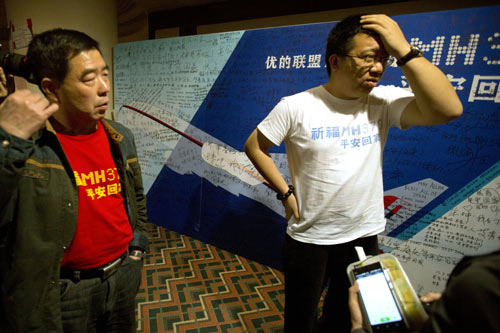 Steve Wang, a representative from the committee for relatives of Chinese passengers onboard the Malaysia Airlines MH370 talks to journalists after a closed door meeting with Malaysian officials via teleconference in Beijing, China. A Malaysian police investigation into the pilots of the missing Malaysian jet might turn up nothing, the force's chief said. while the head of the international search effort also acknowledged that an air hunt to spot wreckage on the surface of the southern Indian Ocean was not certain of success. The Chinese words on the t-shirts read 'Pray for MH370 safe return' (AP)
He said that officers had conducted more than 170 interviews with relatives of the pilot and co-pilot and 10 other crew members. The investigation is still focused on four possible areas – hijacking, sabotage and personal or psychological problems of those on board – but so far, checks on the crew members and passengers have