Amazon on Wednesday unveiled a 'Fire' smartphone that will be closely tied to the products and services it sells, while adding such touches as the ability to render images in 3-D. Amazon CEO Jeff Bezos, in a rare media appearance, demonstrated how four front-facing cameras on the 4.7-inch smartphone track head movements and can shift perspectives depending on a user's activity.
Here are some details on the new Amazon Fire smartphone:
1. AUDIO AND OBJECT RECOGNITION:
With a new Firefly feature, snap a photo of a book, and it'll show you where to buy it. Listen to a song playing in the background, and it'll direct you to that tune on Amazon. It can even direct you to knowledge, such as pulling up a Wikipedia entry on a painting you snapped. The feature will also let you snap bar codes, email addresses, phone numbers and more.
This concept isn't entirely new. Sony, for instance, has a tool for getting information over the Internet by snapping a bar code or a landmark. Firefly goes further, though, by incorporating audio recognition.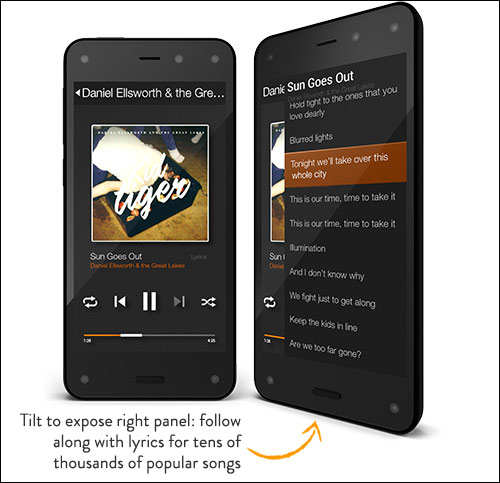 2. 3-D IMAGES:
You can rotate the phone and get a different view depending on your angle of vision. CEO Jeff Bezos calls this ``dynamic perspective'' and said the phone is basically redrawing the image 60 times per second. To make that happen, the phone has four front-facing infrared cameras to tell where your head is, even if your fingers happen to cover two of them.
You can use this feature, for instance, to get front and back views of a dress you are thinking of buying. You can take a character's viewpoint in games by moving your head to look around.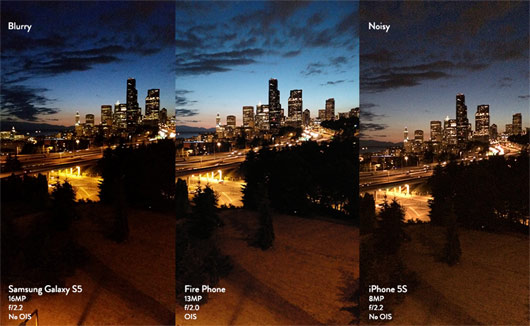 3. TAKING PHOTOS:
Beyond the four infrared cameras, there's a regular, 2-megapixel camera on the front for selfies and a 13-megapixel camera on the back. That's standard for phones these days.
The rear camera has image stabilization to counteract shaking as people take shots, something available in other phones as well.
Amazon is offering unlimited free storage of photos taken with the Fire on its Cloud Drive service.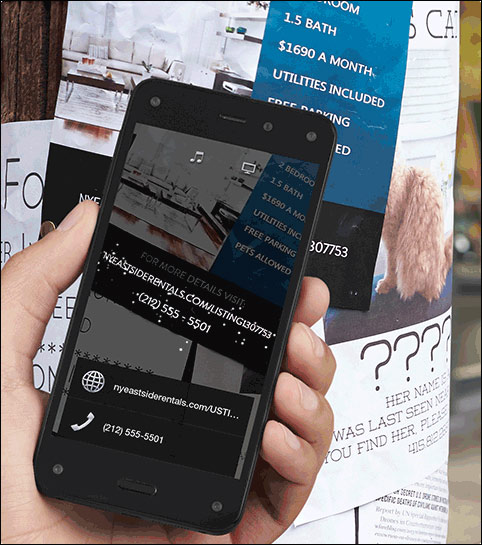 4. OTHER DETAILS:
At 4.7-inches, as measured diagonally, the screen is smaller than leading Android phone, but larger than Apple's iPhone. Bezos calls the Fire's screen ideal for one-handed use.
The phone will come with earbuds that