The benchmark indices ended flat on Friday with markets expecting the US payroll data to allay global growth concerns. The BSE benchmark Sensex ended 65.82 points, or 0.32%, higher at 20,376.56 points, while NSE's Nifty ended 26.90 points, or 0.45%, higher at 6,063.20 points.
On Friday, foreign institutional investors (FIIs) sold $43 million worth of equities, as per provisional data on the BSE. FIIs have increased their selling after US Fed decided to cut its stimulus package further by $10 billion on January 29. Since then, FIIs have sold $338.74 million worth of Indian equities, taking this year's total selling to $229.03 million.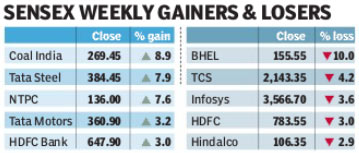 Experts warn that the selloff in developing markets is likely to continue. "The negative sentiment is pretty much in place, so you can expect a lot more selling," said Mark Mobius, executive chairman, Franklin Templeton. Globally, markets are witnessing a risk-off sentiment.
Investors pulled a record weekly amount of $28.3 billion out of US equity funds and put a record amount of $14.8 billion into US bond funds for the week ended February 5, according to Citi Research data. Investors also pulled $6.4 billion from emerging markets funds, including the 15th week of outflows for EM equity funds, according to Citi.
It was, however, a tepid week for the markets with the 30-share Sensex shedding 0.66% even as it inched higher in four out of five sessions. On Monday, Sensex plunged 304.59 points after the government revised the GDP growth to 4.5% from 5% estimated earlier. It has managed to gain 167.3 points since then.
On Friday, the markets opened on a positive note in the morning, gaining as much as 139.77 points, or 0.68%, intra-day amid a firm trend in Asian indices ahead of the US jobs data. As per a Reuters poll, non-farm payrolls are expected to have increased by 185,000 in January compared to the 75,000 payrolls added in December, which was the lowest in three years.
Tata Steel (6.39%), Sesa Sterlite (3.66%) and Sun Pharmaceutical Laboratories (2.80%) led the market. The Tata Steel scrip ended at R384.45, or 23.10 points higher, as upbeat quarterly results from rival, Arcelor Mittal, triggered hopes of better-than-expected earnings from India's top steel maker.
Arcelor Mittal reported a 23% y-o-y rise in its Ebitda (earnings before interest, tax, depreciation and amortisation) at $1.9 billion. Tata Steel's quarterly results will be out on