Based on our negative stance of Apollo Tyre's Cooper Tire acquisition, we believe the termination of the deal is significantly positive for Apollo Tyres'

the share price. With rubber prices remaining benign and with Apollo's strong financial performance in recent quarters, we upgrade our consolidated net earnings estimates for Apollo Tyre by 48% for FY14 and 21% for FY15. We also upgrade our target price to Rs 125/ share (excluding R14/share if Apollo pays deal break-up fees, which are not factored in our base-case scenario). We change our stance to Buy (from Sell).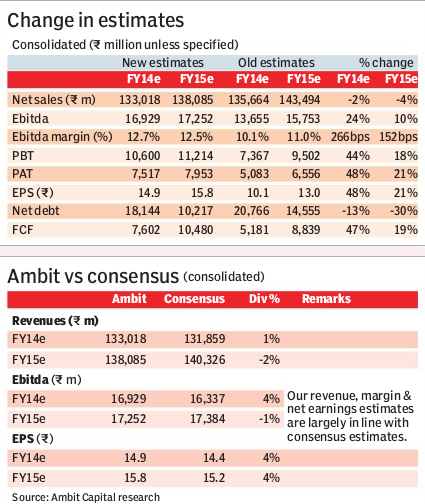 Termination of Cooper deal a positive: Our negative stance on the Cooper Tire acquisition was the primary driver of our Sell stance on Apollo Tyres. We believed this acquisition to be overleveraged (the combined entity's debt level would have increased by nearly 9x to $2.8 bn) and aggressive (acquisition EV—enterprise value--of Cooper Tire >2x that of Apollo's). Even one bad year of operations could have severely hampered Apollo's ability to service the interest as well as the principal repayments.
Benign rubber prices to aid margin: Rubber prices remain benign (prices down 10% in the last six months). As a result, we expect margin to remain strong (consolidated Ebitda margin at 12.7% in FY14 and 12.5% in FY15 vs 11.4% in FY13). As a result, despite muted top-line growth (4% over FY13-15), we expect healthy net earnings CAGR (compound annual growth rate) of 16% over FY13-15.
Significant capex/acquisition remains the key negative risk: We expect Apollo's existing operations to generate FCF (free cash flow) of R18 bn over FY14- 15, due to strong CFO (cash flow from operations) generation (R26 bn) and limited capex. This is likely to result in net debt-equity coming down from 0.7x (end-FY13) to 0.2x (end-FY15). However, any management action to substitute the Cooper deal with significant capex/acquisitions remains a key risk to our stance/valuation.
Valuation: Our revised DCF (discounted cash flow) model yields a fair valuation of R125/share, (using a WACC—weighted average cost of capital—of 14% and terminal year growth rate of 3%), implying 7.5x (times) one-year forward net earnings and an upside of 23% from the current market price. The implied P/E (price-earnings ratio) is at around 20% discount to that commanded by MRF but in line with the historical average P/E commanded by Apollo Tyres.
Cooper Tires' indicated it will pursue breakup fees ($112.5m) and