Cyclone Phailin is heading for the Indian coast, forcing people either to flee or prepare for the worst in what is being billed as one of the fiercest-ever storms to ever hit the country.
Tens of thousands fled their homes in coastal areas of eastern India and moved to shelters on Friday, bracing for the worst cyclone to threaten the country since a devastating storm killed 10,000 people 14 years ago.
Large waves were already pounding beaches in the state of Andhra Pradesh over a day before Cyclone Phailin was due to hit. Villagers were evacuated to schools in the north of the state and in neighbouring Odisha, while panic buying drove up food prices.
Satellite images showed Cyclone Phailin some 500 km (310 miles) off the coast in the Bay of Bengal and likely to make landfall on Saturday evening, with widespread flooding expected from surges.
The images showed the storm covering an area roughly half the size of India. Some forecasters likened its size and intensity to that of hurricane Katrina, which devastated the U.S. Gulf coast and New Orleans in 2005.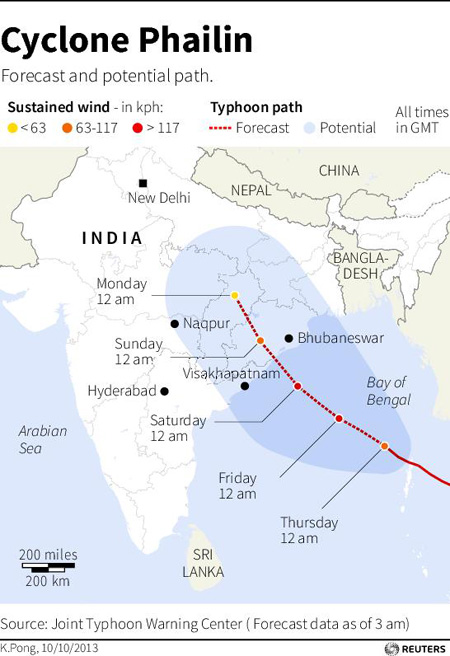 Some 260,000 people were moved to safer ground and more were expected to be evacuated by the end of the day, authorities in the two states said. Not everybody was willing to leave their homes and belongings, and some villagers on the palm-fringed Andhra Pradesh coast said they had not been told to evacuate.
"Of course I'm scared, but where will I move with my family?" asked Kuramayya, 38, a fisherman from the village of Bandharuvanipeta, close to where Cyclone Phailin is expected to make to landfall, while 3.5-metre (12-foot waves) crashed behind him. "We can't leave our boats behind."
The Indian Meteorological Department said Phailin would hit between Kalingapatnam in Andhra Pradesh and the major port of Paradip in Odisha state and predicted flooding from expected storm surges of about three metres (10 feet) above normal tides.
SUPER CYCLONE?
There was disagreement about the power packed by Cyclone Phailin although most forecasters expected it to weaken upon reaching the coast. The Indian Meteorological Department described it as a "very severe cyclonic storm" with wind speeds of 210-220 km per hour (130-135 mph) and resisted upgrading it to a stronger "super cyclone."
But the U.S. Navy's Joint Typhoon Warning Centre predicted gusts of up to 315 kph.
London-based storm