Microsoft Corp's acquisition of Nokia's handset business gives the software behemoth control of its main Windows smartphone partner, but leaves a question mark over the bigger business it has bought: Nokia's cheap and basic phones that still dominate emerging markets like India.
Microsoft Chief Executive Steve Ballmer has said he sees such phones - of which Nokia shipped more than 50 million last quarter - as an entree to more expensive fare.
Related: Microsoft swallows Nokia's mobile phone business for $7.2 bn
"We look at that as an excellent feeder system into the smartphone world and a way to touch people with our services even on much lower-end devices in many parts of the world," he said in a conference call to analysts on Tuesday.
But analysts warn that's easier said than done.
The problem, said Jayanth Kolla, partner at Convergence Catalyst, an India-based telecom research and advisory firm, is that Microsoft simply lacks Nokia's retail and supply chain experience in the Finnish company's most important markets.
"The devices business, especially the non-smartphones business in emerging markets, is a completely different dynamic," he said.
Related: Growth markets may see onslaught of new, cheap smartphones
Kolla pointed to the need to manage tight supply chains, distribution, and building brands through word-of-mouth. "Microsoft doesn't have it in its DNA to run operations at this level," he said.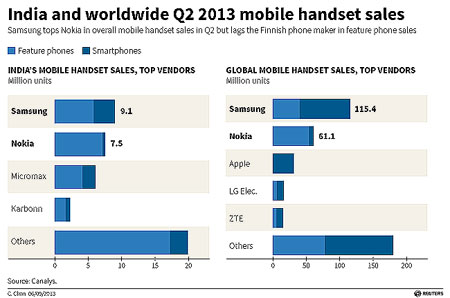 India is a case in point. Nokia has been there since the mid 1990s and the country accounted for 7 per cent of its 2012 revenue while the United States generated just 6 per cent, according to Thomson Reuters data. Its India roots run deep: it has a presence in 200,000 outlets, 70,000 of which sell only its devices. One of its biggest plants in the world is in the southern city of Chennai.
For sure, Nokia has slipped in India as elsewhere: After nearly two decades as the market leader it was unseated by Samsung Electronics Co Ltd (005930.KS) in overall sales last quarter.
But it still sold more of its more basic feature phones.
As recently as last October, market research company Nielsen ranked it the top handset brand. The Economic Times ranked it the country's third most trusted brand.
LOYALTY RUNS DEEP
In a land of frequent power cuts and rugged roads, the sturdiness and longer battery life of Nokia's phones have won it a loyal fan base - some of