Business sentiment among Asia's top companies deteriorated in the third quarter, led by businesses in export engines such as China and South Korea, ending three consecutive quarters of improving sentiment, the latest Asia business sentiment survey showed, but India business sentiment bucked the negative trend.
FE Editorial : For sentiment's sake
The Thomson Reuters/INSEAD Asia Business Sentiment Index fell to 66 in the third quarter from 71 in the second quarter when it reached the highest level in more than a year. An index reading above 50 indicates an overall positive outlook.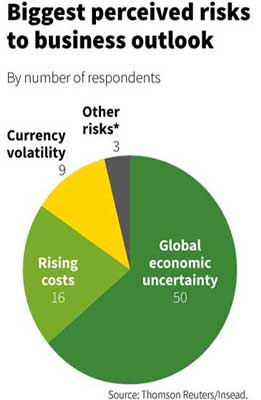 Some of the weakest readings came from north Asia's economies of China, South Korea and Taiwan, and regional trading hub Singapore, all of which turned in readings of 50 - highlighting the impact of a stuttering global economy.
Optimism returned to India, lifting its sentiment index moderately higher at 67 after a drop last quarter.
"Asian companies are still maintaining a relatively cautious outlook regarding their earnings growth prospects," said Fan Cheuk Wan, chief investment officer for the Asia-Pacific region at Credit Suisse's private banking and wealth management unit. "It could be partly related to the recent volatility across the emerging economies over the past three months."
Asian equities, currencies and bonds have taken a beating over the last few months after the U.S. Federal Reserve hinted it would halt its nearly five-year policy of flooding markets with cheap cash.
"This market volatility also inevitably has an impact on the perception and business sentiment of Asian corporates as they are still assessing the global growth outlook," Fan said.
The survey showed that shipping and financial sectors were the most negative with a third-quarter score of 50, a sharp drop from the shipping industry's reading of 80 and financials' reading of 78 in the second quarter.
The poll surveyed more than 100 executives in 11 Asia-Pacific countries across sectors including autos, financials, resources, food and retail.
Of the 90 companies that replied to the poll, held between September 2-13, two-thirds reported a neutral outlook, just less than one-third were positive on their prospects and about 1 percent reported a negative outlook.
China showed no signs of improvement, with business sentiment staying flat for a third consecutive quarter as all eight companies surveyed said their business outlook remained neutral.
However, markets have been comforted by the latest batch of economic data, adding to evidence that