Once in a while comes along a phone that at least some of us so-called "reviewers" in our very limited wisdom end up calling a game changer. I am making that call for the Asus ZenFone series not because of one spectacular feature, but a nice mix of small things that ends in an incremental experiential difference for the user. I had done a quick first impression review of the Zenfone 5 after spending 24 hours with it. Now, it's been almost a couple of weeks and I think I know what this phone is all about.
Specs
Display: 5″ 1280*720 IPS+ Panel, Corning Gorilla Glass 3; CPU: 1.6GHz Intel Atom Dual-Core Z2560; RAM: 2GB; Storage: 16GB & 8GB; Connectivity: 802.11 b/g/n, Bluetooth 4.0; Camera: 2MP front, 8MP rear; Battery: 2110 mAh; OS: Android JellyBean 4.3 (will update to 4.4 KitKat)'; Memory Slot: MicroSD card (up to 64 GB); SIM: Dual Micro SIM card
Asus ZenFone 5 price: From Rs 5,999 for the 4 inch, Rs 9,990 for 5 inch and Rs 16,999 fro 6 inch
DESIGN: The design has the Asus trademark with brushed metal rings and sharp edges. You will like the feel of this phone with the matte finish rear flap and metallic buttons. It is not a flat design, but the slimmer proportions give you the feel of holding a very thin device. Everything on the phone is minimal and nothing cries out for attention.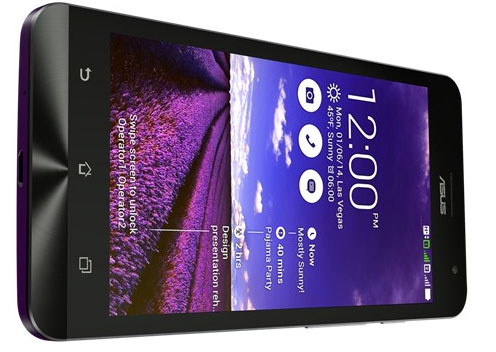 DISPLAY & AUDIO: I think an HD display is good enough for a regular phone user. And the 5-inch IPS panel on the ZenFone is among the best HD displays around. You just have to see the visualisation on the homescreen when you run your finger through it to fall in love with this one. The viewing angles are good too. While the phone, like most other Androids, is not very loud when you are making a call, the speakers are really loud. The phone also comes with HD audio recording, which I used successfully to create a SoundCloud after a very important meeting.
SOFTWARE: This is an important element of what this phone is all about. For me, the Zen UI is the best Android tweak since the HTC Sense. While the phone is sadly not on the latest Android version at the moment, you will not miss it much. It