With tablets consolidating their position as the computing device of the future, manufacturers are innovating with the basic form factor of the device itself. While Apple Inc. has made the iPad thinner and with Sony making its new models water and dust proof, Lenovo thinks it has an opportunity in changing the very shape.
The new Yoga Tablet launched in India on Friday is a multi-mode machine with an ergonomic cylindrical edge, which Lenovo claims will make it much more easier to hold and operate with one hand. The shape gives allows it to stand up in a consumption mode and present itself in a tilt mode for content creation.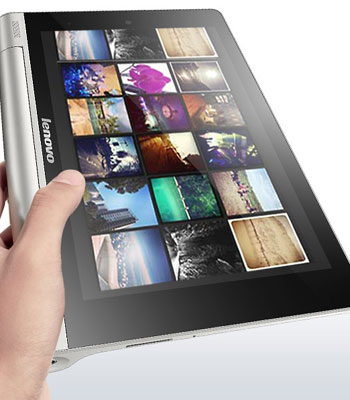 "We have re-engineered the tablet from ground-up to offer users a better way to experience the tablet. We are confident that the Yoga tablet will redefine the category and set the stage for devices that are in sync with the evolving needs of the consumer," said Shailendra Katyal, Director – Consumer Business, Lenovo India.
The company claims the device can have up to 18 hours of battery life as the cylindrical edge holds larger batteries that normal. This design also shifts the center of gravity to the side making the tablet feel lighter.
Other features include a HD 1280x800p display, a 5 MP auto focus rear camera and storage options up to 64 GB. The 20.3 cm model offers 3G and voice calling, which is the basic requirement for the Indian market; and the 25.4 cm model features Wi-Fi + 3G. Users can also opt for a WD100 dongle to stream video content from the Tablet wirelessly to a TV.
The 8-inch model is priced Rs 22,999 while the 10-inch version will cost Rs 28,999.