In The Age of Kali, cricket legend Imran Khan tells William Dalrymple, "The male is prettier in every species, except the human race." Indeed, a woman is among the finest creations of god. So when it comes to one of the finest creations by humankind, it has to be 'she'. Cars, since they landed from drawing boards to the roads, have been generally referred to as feminine. "It's so feminine" was my reaction when I saw the A3—the newest baby from Audi—at my hotel premises in Udaipur where Audi organised the car's first India drives.
Already the 2014 World Car of the Year, the A3 is Audi's most important launch this year. Unlike its German competitors Mercedes-Benz and BMW—which sell the A-Class and 1 Series luxury hatchbacks in India—Audi perhaps believes that the Indian market is not yet ready for luxury hatches and that a compact sedan makes more sense. From the looks of the car, it could be right.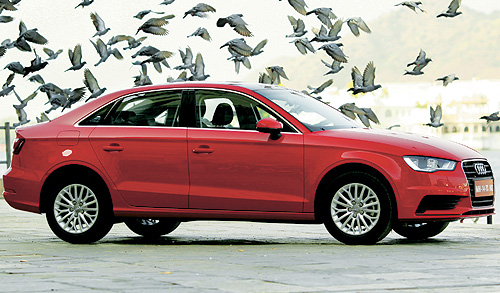 Exterior
The good thing is, the A3 looks like the A4 from almost all angles and resembles the A6 from the front. So be rest assured that when you drive it around town, it will attract as many eyeballs as bigger Audi cars do. The trademark Audi grille flanked by lean bi-xenon headlamps with LED daytime running lights look smart. The side profile has two character lines that give the A3 a stretched appearance. But it is the rear that makes the A3 stand apart. The way the flat roof merges into the C-pillar and the way the C-pillar blends into the boot is artistic. The rear tail-lamps and the slightly 'raised' rear bumper add to the beauty. In fact, in my view, the rear three-quarter is the best angle to look at the A3.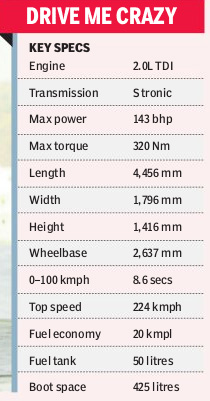 Interior
Step inside and you will find the cabin refined and straightforward. The instrument panel is neat and the centre console is slightly angled towards the driver—the A3, clearly, is a driver's car. What especially attract attention are round air vents in the shape of jet turbines with an inbuilt air-diffuse function. As in most Audi cars, the controls are easy-to-use and self-explanatory. As you insert the key in the ignition slot and activate controls, the 7-inch retractable screen 'rises' smoothly from the centre of the dashboard. Both the front seats are