In a last-minute rush to meet the revised disinvestment and fiscal deficit targets before the year ends, the government successfully offloaded a 9% stake in Axis Bank held by the Specified Undertaking of Unit Trust of India (SUUTI), helping the exchequer raise Rs 5,600 crore on Friday.
Separately, the Centre raised Rs 4,000 crore via the CPSE exchange-traded fund (ETF) with the issue getting oversubscribed on Friday.
After the Axis Bank deal and the CPSE ETF, proceeds from disinvestment have exceeded the FY14 revised estimates by about Rs 3,800 crore as on Friday. The revised estimate from stake sale in PSUs and residual stake sale in non-government companies was Rs 19,027 crore, and by Friday evening, the government had earned Rs 22,856 crore.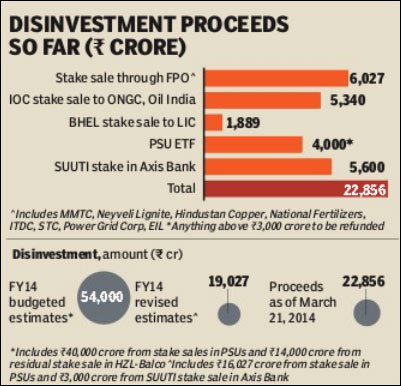 However, government sources told FE that the Centre will refund any amount above Rs 3,000 crore from the CPSE ETF, which comprises scrips of 10 state-owned companies, namely ONGC, Coal India, GAIL, REC, Oil India, Container Corp, Power Finance Corp, Indian Oil, Engineers India and Bharat Electronics.
"So far, we have received about R4,000 crore. But we have a provision for this ETF where we will have to refund any amount over Rs 3,000 crore. Hence, we will refund the balance amount," a finance ministry official said.
The government sold 4.22 crore shares in Axis Bank — the third largest private sector lender by assets — held by various schemes of the SUUTI via the block trading facility on stock exchanges at an average price of Rs 1,315.193 per share.
"There was massive participation from foreign institutional investors (FIIs) in the Axis Bank deal. This includes the likes of global long-only funds who have tremendous faith in the fundamentals on the bank," a person familiar with the deal said on conditions of anonymity.
Life Insurance Corporation of India (LIC) reportedly bought Axis Bank shares worth Rs 1,122.37 crore, showed bulk/block deal data available on the BSE. The insurance behemoth purchased 85.46 lakh shares at a price of Rs 1,313.25 per share.
Other prominent buyers include Citigroup Global Markets Mauritius (38.23 lakh shares for Rs 503.19 crore), Goldman Sachs Singapore (23.5 lakh shares for Rs 311.03 crore) and New World Fund (26.88 lakh shares for Rs 353.50 crore), BSE data showed. Block deal is a trade with a minimum quantity of 5 lakh shares or minimum value of Rs 5 crore executed through a single