Bank of India (BoI) reported a net profit of R803.5 crore for the quarter ended December 31, up 12.2% from a year ago, aided by increased growth in net interest income (NII). The bank's NII rose 11.65% year-on-year to R2,308.5 crore, it said in a statement on Monday.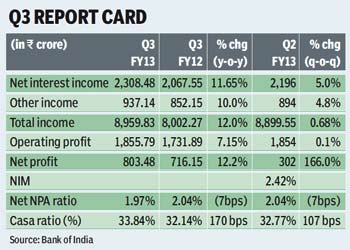 Other income, or non-interest income, rose 10% from a year ago, to R937 crore at the end of the quarter. Total income during this period rose 12% y-o-y to R8,959.83 crore, the bank said.
Global net interest margin (NIM) for the bank (including domestic and international business), however, contracted marginally to 2.36%, down six basis points (bps) sequentially. This fall was because of the bank's foreign business, which is usually a low margin business, VR Iyer, chairman of the bank, told reporters.
"Our strategy is to improve our domestic credit-deposit (CD) ratio to 74-75%, which will boost our domestic NIM to 2.9% and the global NIM will also improve to 2.6% by the end of this financial year," Iyer said.
Of its total global business of R6,29,473 crore, the bank's foreign business contributed R1,72,317 crore, or 27.4% ,during the three months ended December 31. The bank's domestic CD ratio during the October-December quarter stood at 70.46%.
Operating profit for the quarter stood at R1,856 crore, up 7.15% from the corresponding quarter last year.
The bank's asset quality during the quarter improved with net non-performing assets (NPAs), as a ratio of total assets, falling to 1.97%, marginally down from 2.04% in the preceding quarter. Gross NPA dropped 34 bps sequentially to 3.08% during the October-December. "We are expecting net NPAs to improve to 1.8% by March 31, due to better recoveries," Iyer said.
Total restructured accounts as on December 31 stood at R18,136 crore, which formed 6.47% of the total advances. As on September 30, total restructured accounts stood at R17,853 crore, the bank said. BoI added R2,206 crore worth of restructured accounts during the quarter.
The bank's provision coverage ratio was marginally lower at 60.74% at the end of the December quarter against 60.96% on September 30. Gross global advances as on December 31 stood at R2,80,356 crore, up 20.3% from a year ago.
Global deposits rose 13.6% from the previous year to R3,49,117 crore during the quarter. The current account savings account (Casa) ratio for the bank improved to 33.84% during the quarter. In absolute terms, Casa deposits stood at R87,972 crore, up 12% from