Corporates, conglomerates — whether in the public or private sectors — as also non-banking financial companies (NBFCs) can now apply for a banking licence using a non-operative financial holding company (NOFHC) structure. The Reserve Bank of India (RBI), which issued final guidelines for new banks on Friday, refrained from restricting entities that had a significant presence in the real estate and broking sectors from setting up a bank although it had put in some caveats in the draft guidelines. The central bank, which appears to have conquered its fears of 'self-dealing', will cherry-pick prospective bankers checking out if their "credentials and integrity" are sound; it has stipulated that the new bank cannot have any exposure — whether credit or investments in debt or equity — to the "promoters, group entities or individuals associated with the promoter group or the NOFHC" and will count on feedback from investigative and tax agencies to issue licences on a "very selective basis".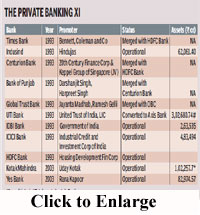 The NOFHC must hold a minimum of 40% of the paid-up equity capital of the bank for five years with the stake being pared to 15% within 12 years, the RBI said. While the minimum initial capital needed to set up a bank of R500 crore is relatively small and will lower entry barriers, the condition that 25% of the branches need to be located in unbanked areas is a tough one and will favour large promoters with deep pockets. The mandatory presence in rural areas is challenging because banks need to list within three years of starting operations. Prospective entrants may also be miffed that the RBI has tightened foreign holdings in new banks by capping the aggregate stakes of non-resident Indians FDI and FIIS at 49% for the first five years. Currently, foreign direct investment of up to 74% is allowed in private banks.
The central bank has put in several checks and balances — for instance, whether or not any entity belongs to a particular promoter group or nor or whether the entities are linked or related to the promoter group, the RBI said, would be guided by the provisions of the Banking Regulation Act, 1949. "The decision of the RBI in the matter will be final," the central bank said.
To prevent round-tripping and circular movement of funds in the banking group, the RBI said the financial entities held by the NOFHC should