The Reserve Bank of India's move to cut the statutory liquidity ratio (SLR) by 50 bps to 22% could provide banks an additional liquidity of R44,000 crore, but it might not translate into additional credit growth or a cut in interest rates.
The benchmark bond yield moved up 10 bps on Tuesday, ending the session at 8.604%, as the cuts in both the SLR and HTM (hold-to-maturity) categories are expected to exert pressure on bond prices due to new supply, bankers said, while expecting a recovery of 10 bps in the following fortnight.
RBI reduced the ceiling on SLR securities under the held-to-maturity category to 24% of the net demand and time liability (NDTL) from the existing 24.5%. Currently, banks banks are permitted to exceed the limit of 25% of total investments under the HTM category, provided the excess only comprises SLR securities and not more than 24.5% of NDTL. Most banks' current investment in government bonds, which qualifies as SLR securities, as a share of NDTL is way above the mandated limit.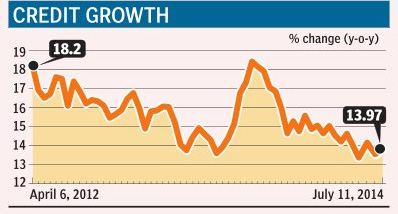 Arundhati Bhattacharya, chairperson of State Bank of India, the country's largest lender, said the SLR cut would free up R6,500 crore for the bank. "At this point, there is not going to be too much of an impact, mainly because the credit demand is still very anaemic. But, going forward, we hope demand will pick up. Maybe, in six months, this money will come in handy," said Bhattacharya. "None of us is very aggressive on picking up loans. We have to be very careful about quality even at this stage," she added.
Ananth Narayan, South Asia head of financial markets at Standard Chartered Bank, said the bond market might react negatively at first because the SLR and HTM cuts might psychologically leading to a belief of more supply in the market and less demand. "Also, the slightly hawkish tune of the policy will make the markets slightly nervous; so, for the new 10-year bond, we are now looking at a range of 8.45-8.65%, or maybe 8.50-8.65%," said Narayan.
NS Venkatesh, executive director and head of treasury at IDBI Bank, said it was a calibrated move by the RBI to bring the HTM category closer to the SLR requirement. "This move will ensure that there is more room in the available-for-sale (AFS) category, which will help deepen the bond market," Venkatesh