Bankers on Tuesday said lending rates would remain unchanged as of now. Indian Overseas Bank CMD M Narendra told FE there was no scope for a rate cut immediately. "Even if we cut rates, it will not stimulate demand," said Narendra, adding that for select corporate customers, banks were prepared to trim rates. "We will cut rates for some corporate loans," without changing the base rate, which affects all customers.
Chairman and managing director of Syndicate Bank SK Jain said customers should not expect lower rates either for retail or corporate loans. "We could expect a loan growth of about 18% in FY15," he said.
Chairman and managing director Bank of Baroda (BoB) SS Mundra told a television channel that he does not see any lending rate cut immediately.
Other bankers FE spoke to also said there would be no change in the loan rates for now as the SLR cut of 50 basis points to 22.5% would increase liquidity in the system by around Rs 40,000 crore.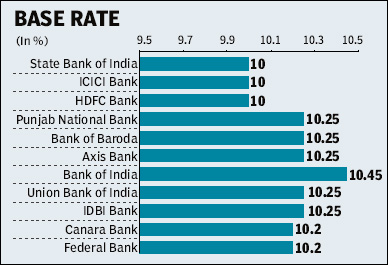 "Even if we cut rates, demand for credit may not pick up. Keeping this in mind, the lending rates do not need to be cut," said VR Iyer, chairman and managing director of Bank of India.
Loan growth has been sluggish and banks have been scouting for customers to whom they can lend at lower rates. Banks recently told FE they would not mind cutting rates by 25-50 bps for high quality borrowers. Most public sector banks have their base rate at 10% and above.
For the fortnight ended May 16, non-food credit stood at Rs 59,28,303 crore, up 14% y-o-y. It had earlier hit a high of 18.20% y-o-y in the fortnight ended September 18, 2013.
The central bank on Tuesday cut the statutory liquidity ratio (SLR) requirement by 50 basis points (bps) from 23% to 22.5% of the net demand and time liabilities (NDTL) leaving the key policy rate unchanged at 8%.
The total deposits of the banking system stood at Rs 78,55,519 crore as of May 16, according to RBI data. Iyer added the system SLR is in the region of 29% of NDTL and for Bank of India it was 26%.
According to State Bank of India (SBI) chairman Arundhati Bhattacharya, there is enough liquidity in the system and the SLR