Lenders say higher liquidity requirement may make borrowing more expensive for them, but they will refrain from hiking lending rates
The Reserve Bank of India (RBI) left the repo rate and the cash reserve ratio (CRR) unchanged at 8% and 4%, respectively, on Tuesday, signalling that it wants rates to remain elevated.
The central bank, however, increased the liquidity requirement under the seven-day and 14-day term repos from 0.5% of net demand and time liabilities (NDTL) to 0.75%, as a result of which the cost of funds for banks could go up slightly. Analysts estimate the rise in costs at no more than 10 bps for those banks who borrow regularly, but do not anticipate any change in loan rates immediately.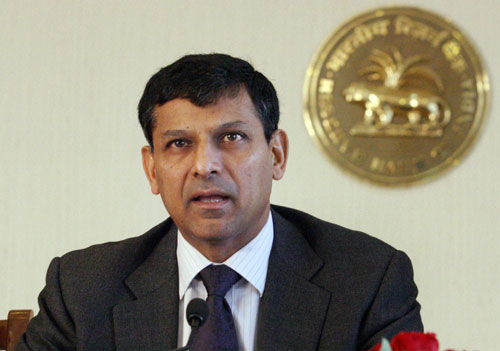 RBI Governor Raghuram Rajan during the announcement of RBI monetary policy at the RBI Headquarters in Mumbai(PTI)
SBI chairperson Arundhati Bhattacharya confirmed that the move would lead to a slightly higher cost of funds as the rate would be near the repo, but not at the policy rate. "To that extent, if I am borrowing from the repo window and, instead, do so from the term window now, it will be a little more costly. The quantum of increase needs to be figured out," said Bhattacharya.
She, however, ruled out any change in lending rates in the near term. "It's not that the change will be transmitted so soon. The RBI is looking to develop better and quicker transmission in the future and wants the call rates to be very close to the policy rates. If we are getting pushed to the long term, and if the cost of funds increases, the transmission will be a little better, but there is still no one-on-one relation," she said.
The RBI had increased the key repo rate by 25 bps at the last policy review in January, but most banks refrained from hiking their lending rates.
Loan growth has been sluggish and banks have been scouting for quality customers to whom they can lend at lower rates. Bankers told FE recently that they would not mind cutting rates by 25-50 bps for high-quality borrowers. Most public sector banks have a base rate that is higher than 10%.
For the fortnight ended March 7, non-food credit growth increased 15.03% y-o-y. Credit growth has been hovering around 15% for the past four months; for FY14, RBI has projected