Loans worth a staggering R62,500 crore have been recast by the corporate debt restructuring (CDR) cell between April and December, a 100% jump over the previous year which witnessed a figure of R31,601 crore. In the nine months to December, the cell received a recast request once in three days, a sign of the severe stress on corporate cash flows.
The Reserve Bank of India (RBI), which estimates that around 15-20% of such assets typically turn toxic, is in the process of tightening norms for debt restructuring. In the meanwhile, banks have taken matters in their own hands, deciding that promoters need to make larger contributions to the package and cough up 25% of the diminution in the fair value of the restructured account. Currently, they fork out just 15% and at times even less. Moreover, banks have decided that promoters must pledge 100% of their shares and furnish unconditional personal guarantees. As many as 15-20% of the new cases being referred to the CDR cell are those seeking a second admission into the CDR cell. In the case of a second recast, the account is categorised as a non-performing asset (NPA), except when the net present value (NPV) is protected.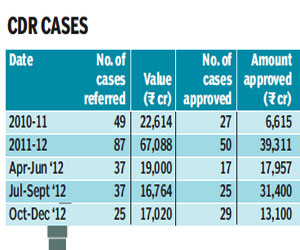 Going by the value of the 99 loans sought to be recast in the nine months to December of R52,784 crore — way above the R67,088 crore referred in 2011-12 — there's more pain ahead. With many more queuing up for easier terms, banks have become somewhat risk-averse —loan growth between April and mid-December has been sub-5.2% with non-food credit disbursed at R2.39 lakh crore. Some banks have recast large sums — Punjab National Bank, for instance recast R2,770 crore loans in the September quarter, while the sequential growth in net advances stood at a mere R279 crore.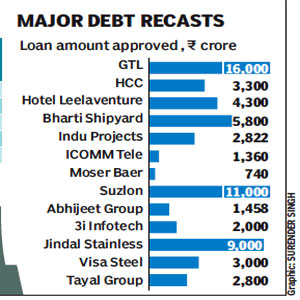 Among large corporates whose loans were recently recast are Hotel Leela, Bharti Shipyard, GTL and HCC. Though Suzlon's R11,000-crore debt recast has been admitted into the CDR cell, the recast package has not yet been approved by lenders. For approval by the consortium, the CDR package needs a mandate from at least 75% of the lenders by value and 60% of the lenders by amount.
The new RBI guidelines on restructured assets, based on the recommendations of the Mahapatra Committee, are expected in end-January. The panel has suggested that promoters sacrifice 15%