Contentious issues like construction of a Ram Temple in Ayodhya, abrogation of Art 370 giving special status to Jammu and Kashmir and enactment of Uniform Civil Code have been included in the BJP's election manifesto with the party making promises on them.
The 52-page document, released among others by its PM candidate Narendra Modi at the party headquarters here, also pledged to provide good governance and inclusive development.
"BJP reiterates its stand to explore all possibilities within the framework of the Constitution to facilitate the construction of the Ram Temple in Ayodhya," the manifesto, delayed by a fortnight, said.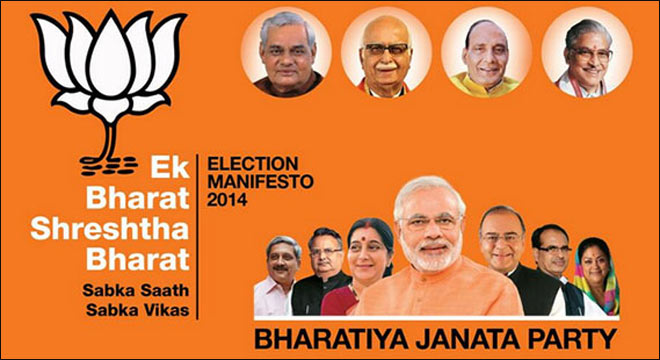 Asked about the reported differences within the party over inclusion of the Ram Temple issue, Murli Manohar Joshi, Chairman of the manifesto committee, said "whatever is there is there in the manifesto. If you want to write something on the basis of your own perceptions, you are free to do".

The release of the manifesto came on the opening day of the 9-phased Lok Sabha elections drawing criticism from rivals.

There was speculation that Modi had reservations over the document drafted by Joshi and that the pet themes of sangh parivar may not figure in it in view of Modi's stress on development in the current campaign.

Asked if the party was trying to confuse voters by including Ram Temple and whether this could be called raking up Hindutva, Joshi said, "this has nothing to do with Hindutva or athva (otherwise). This is only a promise of development programme."

He said Hindutva has never been an election issue and added the manifesto was based on issues of development and governance.

"We have put it in the section on "Cultural Heritage". What is culturally important for us we have said," Joshi said referring to the promise on Ram Temple. He added the issue had been included in the previous election manifesto too and the party's stand remained unchanged.

On Uniform Civil Code, the manifesto said Art 44 of the Constitution lists Uniform Civil Code (UCC) as one of the directive principles of the state policy.

"BJP believes that there cannot be gender equality till such time India adopts a UCC which protects the rights of all women and the BJP reiterates its stand to draft a UCC drawing upon the best traditions and harmonising them with modern times," said the document.

Dealing with Art 370 in the chapter on Jammu