Net declines 60.61% sequentially to Rs.284 crore
The country's largest telecom operator Bharti Airtel on Friday missed analysts' estimates while registering a 60.61% sequential decline in net profit for the October-December quarter at R284 crore. The company had posted a net profit of R721 crore in the preceding quarter. On a yearly basis the decline in net profit was 72%. On a sequential basis the company's total revenues also declined 0.17% at R20,239 crore. However, on a yearly basis it was up 9.5%. The company's Ebitda margin at 30.6% was lower than the preceding quarter's 31.3%.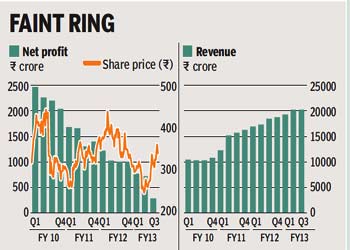 The disappointing earnings pulled down the company's share, which closed down 2.62% at R330.50 on the BSE.
This is Bharti's 12th successive quarter of declining profits. The decline in profitability was attributed to higher finance cost, including forex losses and tax outgo. Explaining the steep fall during the quarter, the company management said that in the previous quarter it had benefited due to a favourable ruling from the Telecom Disputes Settlement and Appellate Tribunal in an interconnect dispute. The gain to revenues on account of this in the preceding quarter was R586 crore, while contribution to the profit before tax number was R344 crore and to net profit R238 crore. The company maintained that on operational parameters the company was faring well as the worst was over since it reported a sequential increase in average realisation per user (Arpu) and data usage. It added that the tariffs wars were over and, in fact, steps had been taken to adjust tariffs in a manner that realisations increase.
The company's board also approved the proposal to make Manoj Kohli the managing director (international operations) while elevating the newly appointed CEO of the India operations Gopal Vittal as the joint managing director. Vittal will also come on the company's board of director as additional director. Sunil Bharti Mittal, who is the company's chairman and managing director, will now be the executive chairman with both Kohli and Vittal reporting to him.
Mittal acknowledged that tough market conditions are putting pressure on margins. "Market conditions have been challenging in recent quarters due to pricing pressures and rising input costs, which have put enormous pressure on the sector and, consequently, the margins. However, the worst seems to be getting over with corrections taking place in customer acquisition practices and tariffs, which are driving quality of acquisitions and improving efficiencies. Moreover, on