Investors are increasingly looking at government securities on expectations that the Reserve Bank of India (RBI) will reduce the interest rate in its monetary policy on Tuesday. Allocation to government securities increased to 46% in December last year compared with 26% in September last year and the category delivered 2.39% absolute return over the quarter.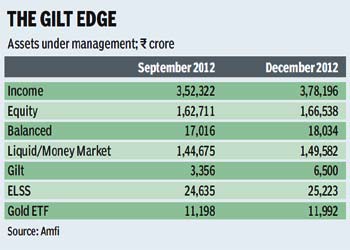 Gilt funds of asset management companies invest in government bonds (G-Secs), which tend to rise when interest rates fall and vice versa. The maturity of G-Secs varies as the government issues paper of various tenure, which could be short, medium and long term. The credit risk in government securities is almost nil as the government has zero risk of default. But the interest rate risk rises as the market price of debt security varies with fluctuating interest rates.
Analysts say gilt funds are a very important part of asset allocation with their inverse correlation to stocks and they could contribute significantly to the yield enhancement of a portfolio. Analysts say G-Secs with higher maturity are more sensitive to interest rates and investors have to look for the tenure in which the fund house is investing their money. Gilt funds are not as liquid as other funds as G-Secs are not actively traded, and if there is a sudden redemption pressure, fund houses will have no other means but resort to distress sale.
Analysts also say that investors must avoid those gilt funds that have a small corpus, as they will not be able to perform well in case of sudden volatility in interest rates. Analysts says retail investors must look at gilt funds with a trading perspective of more than two years and their inverse correlation to stocks could contribute significantly to the yield enhancement of an investor's portfolio.
Also, gilt funds become a good investment option as the headline inflation is near its peak and the RBI is not likely to raise interest rates in the immediate future.
Performance of both medium- and long-term gilt funds shows that on an annualised basis, they gave a return of over 8%, indicating that the funds have been be able to give returns similar to other fixed-income instruments like bank deposits. Yields on gilt funds are dynamic and change from time to time depending on a variety of factors, including the prevalent liquidity conditions, expectations of supply of these instruments from the issuers and the