The benchmark indices ended at all-time highs on Monday ahead of the Reserve Bank of India's monetary policy, which will be held on Tuesday.
The BSE Sensex ended 46.30 points or 0.21% higher at 22,386.27 points after touching lifetime high of 22,467.21 points. The NSE Nifty ended 8.30 points or 0.12% higher at 6,704.20 points after touching lifetime high of 6,730.05 points.
Also read: Malaysia Airlines Flight MH370: 20 planes, ships resume hunt west of Perth after more debris spotted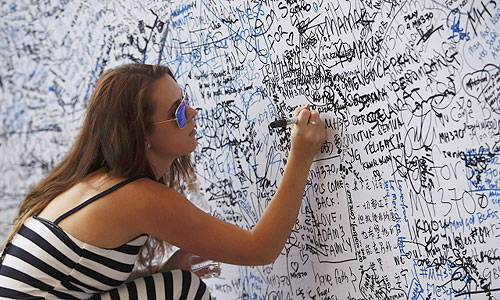 A woman writes on a wall dedicated to the passengers of the missing Malaysia Airlines flight MH370 during the the Malaysian F1 Grand Prix at Sepang outside Kuala Lumpur. (Reuters)
Experts feel RBI is likely to hold the interest rates. "The likelihood of the RBI keeping its interest rate stance on hold could boost the market sentiment further," Standard Chartered Securities said in its morning note.
Among sectoral indices, the BSE Metal (3.87%), BSE Consumer Durables (2.62%) and BSE Auto (1.05%) were the major gainers. Among individual stocks,Hindalco Industries (8.71%), Tata Steel (3.40%) and Sesa Sterlite Ltd(2.76%) were the major gainers on the 30-share Sensex.
Among Asian indices, the Nikkei (0.90%), Hang Seng (0.39%), Straits Times (0.52%) and Jakarta Composite (0.96%) were the major gainers.
Also Check:
Full coverage: Malaysia Airlines MH370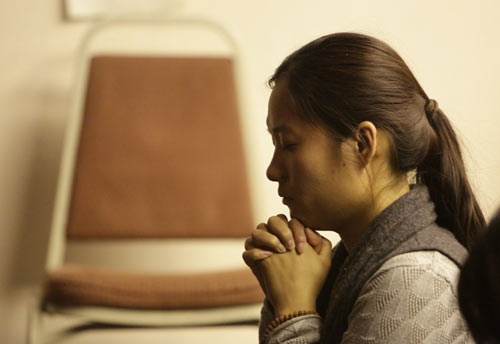 A relative of a passenger onboard Malaysia Airlines Flight MH370 prays at a praying room at Lido Hotel. Australian Prime Minister Tony Abbott said there was no time limit on the hunt for Malaysia Airlines Flight MH370, missing for more than three weeks in the Indian Ocean with 239 people on board.(Reuters)