BSE Sensex rose on Tuesday, led by gains in technology stocks including Tata Consultancy Services (TCS) which rose tracking weakness in the Indian rupee as recent underperformance of the sector made short-term valuations attractive. On the other hand Sun Pharma shares plunged, while Ranbaxy Laboratories Ltd shares pulled back after Monday's sensational drop.
Wipro Ltd surged 4.9 percent, Tata Consultancy Services Ltd rose 2.2 percent, and Infosys Ltd gained 0.8 percent.
Foreign funds bought $50.22 mln in Indian equities and sold $213.46 mln in debt on Sept. 16, data from India's markets regulator showed on Tuesday.
Sentiment also got a boost as foreign institutional investors bought $50.2 million worth of shares on Monday, totalling nearly 70 billion rupees worth of inflows over the previous eight sessions.
Deutsche Bank also said fears of foreign institutional investors capitulation are receding following governor Raghuram Rajan's recent announcements, supportive trade data and easing investment facilitation in debt markets.
However, caution prevailed ahead of the U.S. Federal Reserve's two-day policy meeting, at which it is widely expected to begin withdrawing stimulus, followed by the central bank policy review on Sept. 20.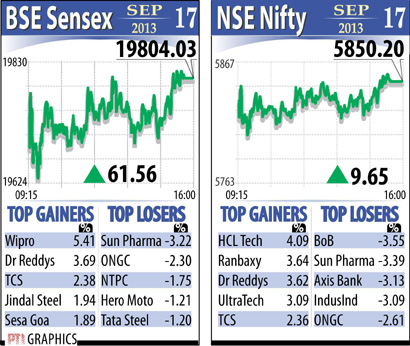 "NSE Nifty was showing indecision in range 5800-5850 today. Even though it closed near 5850 level, volumes were much lower and market breadth was weak," said Rakesh Goyal, senior vice president at Bonanza Portfolio Ltd.
The outcome of the Federal Reserve meet and RBI policy review will decide the market trend from here onwards, he added.
The benchmark BSE index rose 0.31 percent, or 61.56 points, to end at 19,804.03, although on its lowest volumes since Aug. 2, data showed.
The broader NSE index rose 0.17 percent, or 9.65 points, to end at 5,850.20, after earlier slipping below its 200-day moving average for a brief period.
Shares in Indian IT companies gained, tracking weakness in the rupee and as recent underperformance made their short-term valuations attractive, dealers said.
Ranbaxy Laboratories Ltd gained 3.6 percent on value buying after a