Markets ended higher for the second consecutive week as the S&P BSE Sensex surged by 650 points to conclude at a 3-week high of 19,270.06 on sustained buying mainly in banking, PSU and refinery sectors.
It was primarily due to various plans announced by the new Reserve Bank of India (RBI) Governor Raghuram Rajan to bolster the financial industry.
BSE Sensex extends gains by 290 pts as Indian rupee rebounds to 65-level against US dollar
Brokers said market sentiment remained bullish after Rajan took over as the RBI chief and announced a slew of measures to attract capital flows and boost economic growth.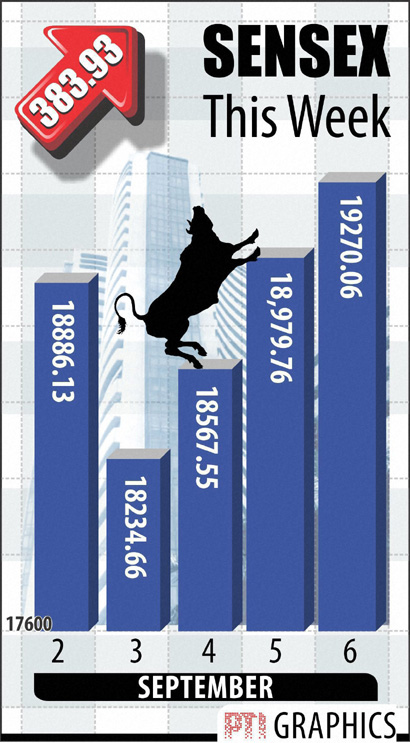 The banking sector index rose by 9.99 per cent after Rajan raised the overseas borrowing cap for banks and said there is a need to cut investments by lenders in government securities. He also said banks would soon be free to open branches.
Renewed buying by foreign institutional investors also boosted sentiment as they bought a net Rs 1,782.81 crore of shares during the week including the provisional figure of September 6, as per provisional stock exchange data.
"Markets have reacted on cues from the currency markets," said Dipen Shah, head of private client group research at Kotak Securities. "Further initiatives on the rupee and on fiscal reforms will help in taking the markets higher."
The rupee ended higher at 65.24 per dollar as against the weekend's level of 65.70 per dollar as India and Japan expanded their currency swap arrangement to USD 50 billion from USD 15 billion in a bid to strengthen bilateral financial cooperation and stabilise the global financial markets.
The S&P BSE benchmark Sensex resumed slightly higher at 18,691.83 but fell to 18,166.17 on heavy selling on Tuesday as rupee once again touched the 68 mark and after reports of the missile firings indicated escalating tension in Syria.
However, it recovered afterwards to 19,293.96 due to recovery in rupee value against the dollar as well as reports of missile firings turned out to be tests carried out jointly by Israel and the US before ending the week at 19,270.06, disclosing a gain of 650.34 points or 3.49 per cent.
It has gained by 750.62 points or 4.05 per cent in two weeks.
The NSE 50-share Nifty also rose by 208.60 points or 3.81 per cent to 5,680.40.
The market maintained the firm trend even as government said