Extending gains for the third day, the S&P BSE Sensex today surged 290 points to end at 19,270 on the back of FII buying in banking, capital goods and refinery shares amid recovery in the Indian rupee to the US dollar.
After surging 739 points in the last two sessions, the Sensex rose by 290.30 points, or 1.53 per cent, to 19,270.06 as 20 stocks in the Sensex stocks closed with gains.
This is the second week of gains for the 30-share index which jumped by 650.28 points or 3.49 per cent.
The broad-based NSE Nifty today rose by 87.45 points, or 1.56 per cent to 5,680.40. Also, MCX-SX's SX-40 index rose 183.35 points to settle at 11,391.56.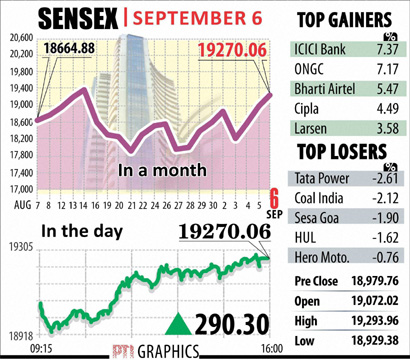 Multi Commodity Exchange of India Ltd (MCX)
"After new RBI Governor Raghuram Rajan announced a number of measures which will boost the currency as well as economy, investor confidence have been revived and buying from lower levels is being seen," said Rakesh Goyal, Senior Vice President, Bonanza Portfolio Limited.
Brokers said continuing recovery in the rupee versus dollar also boosted equity markets. Rupee was trading at 65.2 levels compared to yesterday's close of 66.01.
Sectorally, the banking sector index gained the most by 2.89 per cent to 11,333.44 as ICICI Bank surged by 7.3 per cent, HDFC Bank by 1.2 per cent, IndusInd Bank Ltd by 3.5 per cent, Yes Bank Ltd by 1.9 per cent and Axis Bank by 2.8 per cent.
The capital goods sector index was second best performer by gaining 2.77 per cent to 7,443.02, followed by Oil and Gas index by 2.20 per cent to 8,572.54.
The three most heaviest on the Sensex with their nearly 30 per cent weightage - Reliance Industries (RIL) jumped up by 0.73 per cent to Rs 867.55, ITC Ltd by 1.51 per cent to Rs 316.20 and Infosys by 0.41 per cent to Rs 3,014.90.
The market will remain closed on Monday for 'Ganesh Chaturthi" and reopen for regular trading on Tuesday.
*Stocks: Top Gainers/Top Losers
"Looking broadly at the market's fundamental setup, the falling USD/INR rates are favourable and now the