BSE Sensex plunged as much as 769.41 points while NSE Nifty fell 234.45 points on Friday, marking their biggest single-day drop in almost two years, as blue chips including HDFC Bank were hit across the board on fears US stimulus tapering would hit foreign selling.
Related: RBI may have set up Sensex, Nifty for a fall, says Morgan Stanley
The market mayhem drained investor wealth by as much as Rs 2 lakh crore.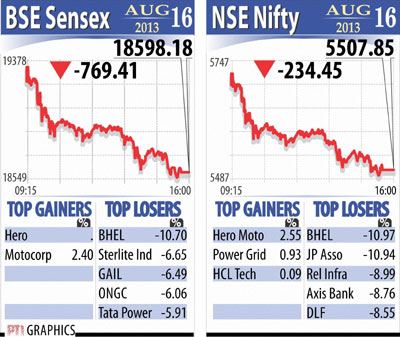 After gaining 703 points in the last four sessions, BSE Sensex plunged 769.41 points, or 3.97 per cent, to 18,598.18 on all-round selling. Consumer durables, realty, banks and metal sector took major beating.
Related: Foreign investors baulk as rupee hits record low
Dipen Shah, Head of Private Client Group Research, Kotak Securities said: "Markets started on a soft note on weak global cues but fell suddenly and sharply on continuing concerns over the depreciating rupee and tapering of monetary stimulus by US Fed.
Rupee fell to an intra-day low of 62 to the US dollar.
The broad-based NSE Nifty nosedived by 234.45 points, or 4.08 per cent to 5,507.83, after touching day's low of 5,496.05. Also, SX40 index, the flagship index of MCX-SX, closed at 11,083.52, down 428.63 points or 3.72 per cent.
In 30-share Sensex pack, barring Hero MotoCorp, all stocks closed with heavy losses. Major losers were Reliance Industries (4.62 pc), Sterlite Industries (6.65 pc), ONGC (6.06 pc), Jindal Steel (5.46 pc) and L&T (5.19 pc) and Maruti Suzuki India (4.84 pc).
Others like SBI (3.32 pc), BHEL (10.70 pc), GAIL (6.49 pc), HDFC (5.81 pc), HDFC Bank (5.05 pc) and ICICI Bank (5.02 pc) also bore the brunt of investor selling.
Brokers said a weak trend in Asian and European markets on speculation that US Federal Reserve might roll back monetary stimulus after jobless claims in US declined to lowest level since 2007, further influenced the market.
Sectorally, the consumer durable sector index suffered the most by losing 8.38 per cent to 5,893.26, followed by realty index by 6.07 per cent to 1,263.77. Metal index fell by 5.56 per cent to 6,953.89 and bank index by 5.55 per cent to 10,800.62.