The benchmark BSE Sensex index slipped by 180 points today on selling in banking and oil&gas shares after crude prices rebounded and investors judged the gains related to the Iran deal as excessive.
Markets Top Gainers, Markets Top Losers
Lack of fresh triggers and cautious sentiment ahead of monthly derivatives expiry on Thursday and and GDP data release on Friday also led to profit-booking, traders said.
After a steep rise of 387.69 points in the previous session, the Sensex dropped by 180.06 points, or 0.87 per cent, to end at 20,425.02 -- near day's lows.
ICICI Bank, ITC Ltd, HDFC Bank and Reliance Industries (RIL) were among laggards in the 30-share Sensex. However, gains in Tata Motors, Hindustan Unilever (HUL) and Bharat Heavy Electricals Ltd (BHEL) capped its fall to some extent.
The broad-based NSE Nifty lost 56.25 points, or 0.92 per cent, to close at 6,059.10. Also, SX40 index, the flagship index of MCX-SX, closed 106.90 points lower at 12,124.35.
Investors churned portfolios ahead of the monthly futures and options (F&O) contract expiry on Thursday, analysts said.
The rupee was looking up against the US dollar as it traded at 62.44 compared to yesterday's close of 62.50. IT stocks, including TCS and Infosys, ended lower.
Oil rose ahead of a US supply report that might show an improvement in demand. Benchmark US crude for January delivery was up and trading around USD 94.5 a barrel.
The contract had fallen on Monday after a deal between Iran and six world powers on the country's nuclear program raised hopes that sanctions stifling Iran's oil exports would soon be lifted.
Sectorally in the BSE, the Banking index suffered the most by losing 1.52 per cent. Oil and Gas index shed 1.23 per cent. In oil pack, besides RIL, others including ONGC, GAIL, BPCL, HPCL and IOC failed to sustain yesterday's gains.
PSU index, which contains some oil firms, was down 1.36 per cent. FMCG index declined 1.14 per cent, followed by Realty index (0.92 per cent).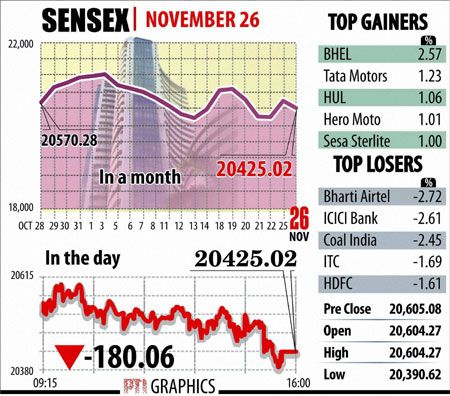 Globally, stock markets traded sideways ahead of data release related to house prices and consumer confidence, and Thanksgiving holiday