The benchmark BSE Sensex fell back after scaling a lifetime high on the last day of the Hindu Samvat year 2069 and still ended at a fresh closing record today with a 32-point gain amid continued foreign fund buying and renewed optimism about the economy.
The index climbed to an all-time high of 21,293.88 in intra-day trade, surpassing the previous record of 21,206.77 reached on January 10, 2008. It ended at 21,196.81, a gain of 32.29 points or 0.15 per cent.
Bank and auto stocks were at the forefront, with State Bank of India (SBI), Mahindra & Mahindra Ltd, ICICI Bank and Tata Motors taking the Sensex higher. Realty and metal sectors advanced.
The markets gained for the fourth day in a row after the Reserve Bank of India on Tuesday increased the repo rate to curb inflation and also improved liquidity for banks.
The US Federal Reserve's decision this week to continue with its bond-buying stimulus programme eased concerns about foreign funds pulling out capital from emerging markets.
Overseas investors were net buyers for the 20th straight day, purchasing Rs 1,875.87 crore of shares yesterday, according to provisional data from the stock exchanges.
"All one can say is liquidity is driving the markets. And what is creating the liquidity surge? It is the expectation over the elections results, no tapering in the Fed's bond-buying programme and finally, the expectation that interest rates may have peaked," said Milan Bavishi, Head of Research at Inventure Growth and Securities.
The Sensex has gained 626.53 points, or 3.05 per cent, in the past four sessions.
The 50-share CNX Nifty on the National Stock Exchange moved up 8.05 points to 6,307.20 today. The SX40 on the MCX Stock Exchange ended at 12,585.49, up 40.36 points.
Finance Minister P Chidambaram today said the current account deficit is under control and the fiscal deficit target will be met. He said export growth is expected to continue and a bumper harvest is likely after the good monsoon.
The minister acknowledged that the market seemed happy but he cautioned investors against excessive exuberance.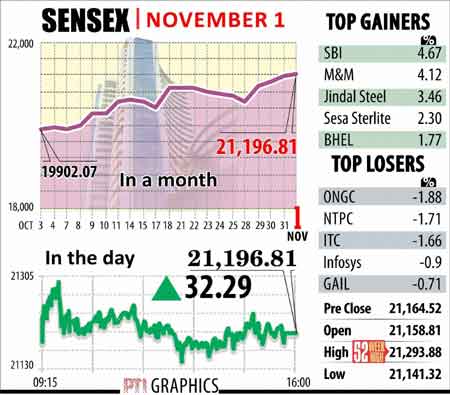 While increased capital inflows driven by attractive corporate earnings boosted buying, some investors chose to book profits after the recent gains, brokers said. Auto shares saw buying on robust sales growth in October, experts said.
An index of eight infrastructure industries grew 8 per cent in September, the government said yesterday.
"The current rally has been fuelled by excess liquidity sloshing around in developed markets," GELP Capital said in a note. "However, the pinch still remains that retail investors have not participated in this rally. Whether they will or should enter into the market at these stratospheric levels seems debatable."
Asian stock markets ended mixed. Key indices in China, Hong Kong and South Korea ended higher while they fell in Japan, Singapore and Taiwan. European markets were lower ahead of manufacturing data from the UK and US.
Twenty of the 30 Sensex stocks gained, led by State Bank of India (4.67 pc), Mahindra & Mahindra (4.12 pc), Jindal Steel (3.46 pc), Sesa Sterlite (2.3 pc) and BHEL (1.77 pc).
The losers on the index included ONGC, which declined 1.88 pc, NTPC 1.71 pc, ITC 1.66 pc and Infosys 0.90 pc.
The BSE Mid Cap and Small Cap indices outperformed the Sensex with gains of 1.15 pc and 0.74 pc, respectively.
Among the S&P BSE sectoral indices, realty rose 2.61 pc, banks 1.45 pc, metal 1.41 pc, auto 1.29 pc and capital goods 1.23 pc.
FMCG declined 0.92 pc and consumer durables by 0.73 pc.
The market breadth remained positive as 1,399 stocks advanced and 1,051 retreated.
Total turnover on the BSE cash segment rose to Rs 2,740.58 crore from Rs 2,534.07 crore yesterday.
The BSE and the NSE will open on Sunday, November 3, for Muhurat trading from 18:15 hrs to 19:30 hrs.
Both exchanges will be closed on Monday, November 4, for Diwali-Balipratipada.