After falling over 200 points initially, the S&P BSE Sensex today recouped losses to end flat at 19,997.45 on the back of gains in shares of metal and banks, extending its winning run to the fifth day.
Rise in SBI, HDFC, Sun Pharma and Tata Steel shares helped Sensex close at 19,997.45, up 0.36 points.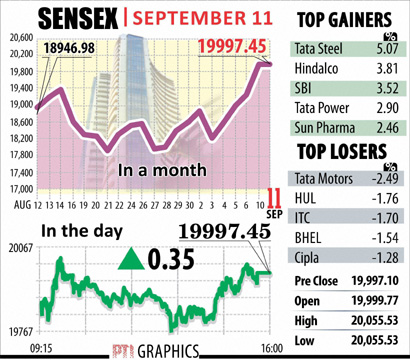 Markets saw bouts of profit-booking after the biggest four-day rally in four years in which Sensex had gained 1,757 points. This dragged the 30-share bluechip index down to day's low of 19,777.63 -- down 219 points from previous close, at one time. During the trade, Sensex shuttled between 20,055.53 and 19,777.63.
Brokers said banking stocks rose on hopes of an interest rate cut by the RBI next week even though investors were largely playing it safe ahead of IIP and inflation data.
SBI shot up by 3.52 per cent to Rs 1,688.90, Bank of India by 10.46 per cent to Rs 166.80, Bank of Baroda by 8.14 per cent to Rs 520.80, Union Bank of India by 7.78 per cent to Rs 117.80, Punjab National Bank by 7.07 per cent to Rs 496.75 and Canara Bank by 6.82 per cent to Rs 222.30.
The 50-share National Stock Exchange index Nifty managed to end higher by 16.40 points, or 0.28 per cent to 5,913.15. It moved between 5,924.35 and 5,832.70 intra-day.
SX40 index, the flagship index of MCX-SX, ended at 11,838.59, down 11.07 points or 0.09 per cent.
Sensex was dragged down by its three most influential constituents - Infosys fell by 0.96 per cent to Rs 3,120.55, RIL by 0.15 per cent to Rs 887.30 and ITC by 1.70 per cent to Rs 329.70.
In the metal sector, Tata Steel, Sterlite Industries, JSW Steel, SAIL, Sesa Goa and Hindalco Industries attracted buying support and settled with gains.
The rupee continued with its gains and was trading near 63.20 levels against dollar, after falling to 64.19 intra-day.
Global indices, however were seen mixed. Reports said a fresh condition by Russian President Vladimir that the US should rule out use of force against Syria added to the uncertainty.
Indian shares extend gains to a fifth day on FII inflows
(Reuters) Indian shares edged higher on