This has been the best pre-Budget week for the Indian equities in nearly two decades. Riding high on hopes of a growth-oriented Budget on July 10, Sensex posted gains of 3.4%, the highest pre-Budget weekly gains since 1996-97.
In fact, this is the first time in the last two decades that the gauge has gained more than 3% in the week ahead of the Budget. Since 1997 till date, Sensex has given negative returns during 11 pre-Budget weeks. In last three years, too, the returns gave negative returns.
What makes it more remarkable is the fact that the markets are at an all-time high, boosted by the positive pre-Budget sentiment and the continued faith shown by overseas investors in Indian markets. This week, foreign institutional investors (FIIs) bought shares worth $733 million, taking their year-to-date purchases to $10.65 billion.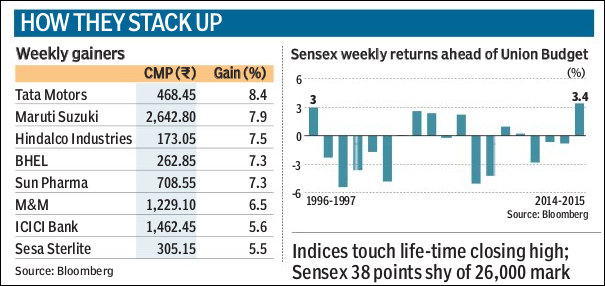 On Thursday, FIIs bought shares worth $886 million, their highest single-day purchase since February 7, 2013.
Experts reckon the finance minister has enough leeway to take decisive measures in the Budget. "Finance Minister Arun Jaitley has his task cut out, with 45.6% of the interim Budget estimate for FY15 being utilised in the first two months alone. However, the historical mandate should enable the BJP to push through reforms, shore up revenues, reduce deficit and bring growth on track," Motilal Oswal Financial Services said in a report.
"Despite a high burden of expectations, we expect the Modi government's maiden budget to surprise positively. Investors may expect sharp shifts in government policy biases, in line with the Modi government's announced priorities..," said a recent India Equity Strategy report by Deutsche Bank.
On Friday, Sensex clocked gains of 0.5% to close at a life-time high of 25,962.06, barely 38 points shy of the pyschological 26,000 mark. The Nifty, on other hand, closed at a new high of 7,751.60. The market rally was led by RIL, which gained 2.4% to end at R1031.95. HDFC Bank (2.3%), Dr Reddy's Laboratories (1.6%), Gail (1.1%) and ONGC (0.9%) were other major gainers on the 30-share Sensex
It was a positive week for the markets, with indices advancing in four out of five sessions. The Sensex garnered 862.14 points in the week. On Wednesday, Nifty and Sensex each rose more than 1% to close at their lifetime highs on expectations of a prudent Budget from the finance minister. "India