Benchmark indices declined a little more than 1.3% on Friday on concerns over the implementation of the General Anti-Avoidance Rules (GAAR). The 50-unit S&P CNX Nifty closed below the psychological 7,500 mark on Friday. The benchmark BSE Sensex saw its worst week in two-and-a-half years as it ended the week 3.6% lower.
On Friday, foreign institutional investors (FIIs) sold shares worth $122.62 million, while the domestic institutional investors sold shares worth $7.61 million, according to provisional data on the exchanges.
FIIs have bought $11.05 billion shares YTD.
On Friday, the 30-share BSE Sensex ended lower by 348.40 points, or 1.37%, at 25,024.35 points, while the broader 50-share Nifty declined 108.15 points, or 1.43%, to close at 7,459.60 points.
Minister of state for finance Nirmala Seetharaman, in a reply to Parliament, said GAAR would come into effect as per schedule on April 1, 2015. Later the finance ministry clarified that the government is yet to review its implementation. GAAR is aimed at companies and investors routing money into India through tax havens such as Mauritius.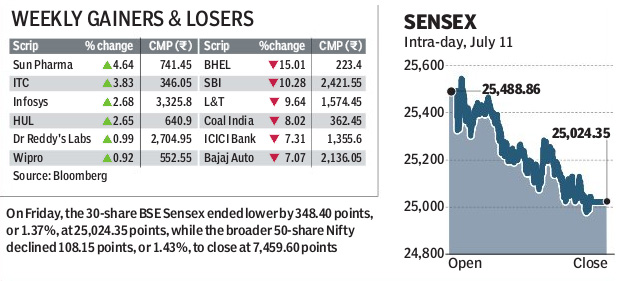 The market fall was led by declines in Bhel (-8.10%), Hindalco (-5.59%) and State Bank of India (-4.96%).
It was a dismal week, with the benchmark indices retreating in four out of five sessions and the BSE Sensex ending lower by 937.71 points.
Ahead of the Budget day on Wednesday, the Sensex ended 0.53% lower. On Thursday, the day of the Budget, the 30-share Sensex ended slightly in the red after Espirito Santo International, one of Portugal's biggest banks, said that it had delayed payments over some short-term securities.
However, foreign brokerages have raised their targets for Sensex after the Budget.
"From a stock-market perspective, the investment push in the Budget, both directly via government spending as well as tax cuts, together with higher FDI limits in insurance and defence and a bunch of steps to ease taxation, should auger well for the progression of the share of profits in GDP. which is at multi-year low. We are raising June 2015 Sensex target by 9% to 28,800 based on Sensex earnings growth of 13.5%, 22.7% and 23.4% for FY15, FY16 and FY17, respectively," Morgan Stanley analysts said in a note.
Among peers, most Asian markets edged lower on Friday. The Nikkei 225 was down 0.34%, while the Jakarta Composite was down 1.28%.
The Hang Seng