BSE Sensex fell more than 1 percent on Thursday to snap a five-day winning streak as lenders such as HDFC Bank dropped on profit-taking, while sentiment also waned as the Indian rupee reversed part of its recent gains to the US dollar.
Caution prevailed ahead of factory output and CPI data, scheduled for release later in the day even as foreign institutional investors remained net buyers of Indian shares, bringing their total to nearly 57.8 billion rupees over the previous five sessions.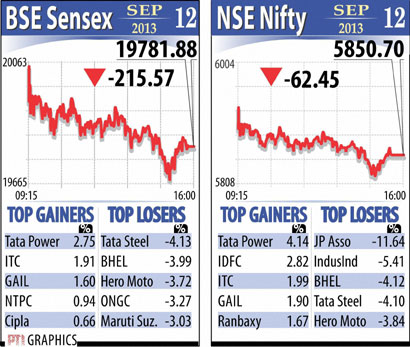 The Indian rupee also fell after five days of gains, even as the Reserve Bank of India (RBI) likely sold dollars via state-run banks starting at around 63.95 levels to prevent further weakness in the currency.
Dealers say the wholesale price inflation data and tempered expectations over the pace at which the US Federal Reserve would withdraw its stimulus after its meeting next week was also seen weighing on the market.
"Macro data, Fed meet hold importance, but I see RBI policy on September 20 to be a silver lining amid the dark clouds," said Deven Choksey, managing director of KR Choksey Securities.
The benchmark BSE Sensex fell 1.08 percent, or 215.57 points, to end at 19,781.88, retreating from their highest level in nearly 1-1/2 months in the previous session.
The broader NSE Nifty fell 1.06 percent, or 62.45 points, to end at 5,850.70, closing below the psychologically important 5,900 level after gaining nearly 11 percent over the previous five sessions.
Among banks, private lenders ICICI Bank fell 1.9 percent, while HDFC Bank Ltd ended 2.1 percent lower mainly on profit-taking.
Wholesale-funded banks were hit more. Yes Bank Ltd slumped 7.4 percent, while IndusInd Bank Ltd ended 5.4 percent lower.
Jaiprakash Associates Ltd slumped 11.6 percent after earlier rising as much as 2.1 percent on profit-taking. It agreed to sell its cement plant to UltraTech Cement Ltd on Wednesday.
Jaiprakash Associates Ltd' shares had risen about 27 percent in the previous