Mirroring the turnaround in the Indian rupee's value to the US dollar, stock markets today soared with the S&P BSE Sensex logging its best gain in a week of nearly 405 points to end at 18,401.04 on across-the-board buying after RBI opened a special window to help PSU oil firms meet daily forex needs.
The gains in the BSE Sensex were led by Reliance Industries (RIL), HDFC Ltd, ITC Ltd and Tata Consultancy Services (TCS) that jumped in the 2-6 per cent range as investors chased shares beaten down in the recent bear run, amid expiry of monthly derivative contracts.
Investors became richer by Rs 1 lakh crore.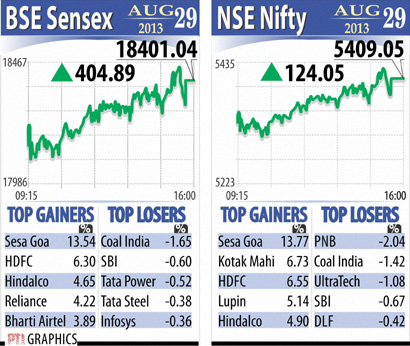 After a solid start, the BSE Sensex remained in the positive zone for the entire session and ended 404.89 points higher, or 2.25 per cent, at 18,401.04. This is the best gain since 407-point rise on August 22.
Buoyed by RBI's move to provide dollars directly to oil marketing companies, the rupee rose to 67.30 per dollar in intra-day trade after touching all-time low of 68.85 in the previous session.
Brokers said a firming global helped domestic markets as investors awaited US second quarter GDP data.
The broad-based NSE Nifty rose by 124.05 points, or 2.35 per cent, to end at 5,409.05 led by stocks of refinery, metal and FMCG sectors. Also, SX40 index, the flagship index of MCX-SX closed at 10,849.51, up 219.46 points or 2.06 per cent.
Multi Commodity Exchange of India Ltd (MCX)
Multi Commodity Exchange of India Ltd (MCX)
Shares of state-owned oil marketing companies, Indian Oil Corp (IOC), Hindustan Petroleum Corporation Ltd (HPCL) and Bharat Petroleum Corporation Ltd (BPCL), rose modestly after the RBI announced opening of a special window to help the three firms needing about 8.5 billion dollars every month to meet daily forex needs in a bid to check the rupee's free fall. The rupee depreciated over 25 per cent against the dollar in 2013.
Sectorally, the oil and gas sector index gained the most rising 2.86 per cent to 8,094.62, followed by metal index by 2.38 per cent to 7,947.85. FMCG index rose by 2.29 per cent to 6,246.34 and capital goods index by 2.20 per cent to