In what could benefit power projects with a combined generation capacity of 20,000 MW and some transmission projects, all of which are set to be commissioned in the current fiscal, the government is likely to give them the much sought-after Section 80-IA tax holiday in the coming Budget.
If finance minister Arun Jaitley reopens the Section 80-IA window, shut on March 31, 2014, for these projects, the companies will be able to claim deduction up to 100% on the profits from eligible projects for a period of any 10 consecutive years, in a block of 15 years, starting this year. Practically, this means the companies will pay only the 18.5% minimum alternate tax (MAT) on book profits, instead of corporate tax, as 100% deduction would bring the effective corporation tax to a level lower than MAT in almost all cases. The rule is that if the corporate tax incidence falls below MAT, the latter will apply.
Corporate tax for domestic companies, inclusive of the applicable, ranges from 30.9% to 33.99% depending on income slabs. (MAT, inclusive of the surcharge, ranges from 19.06% to 20.96%.)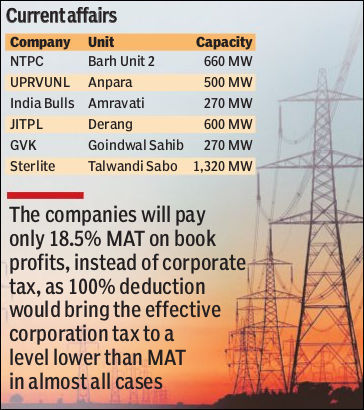 The extension of the Section 80-IA benefit for units coming up this fiscal — later the benefit may be extended to the units coming up in 2016-17, the terminal year of the current five-year Plan — is in keeping with the Narendra Modi government's policy of giving emphasis to the infrastructure sector.
A large number of power and other infrastructure projects are currently enjoying the Section 80-IA benefit as they had commenced commercial operations by the end of last fiscal. Giving the tax holiday option to a new set of about-to-be-commissioned projects would ensure these projects, many of which had faced delays due to lack of fuel linkages and other statutory clearances, are provided a level playing field and the fast pace of capacity addition over the last couple of years is sustained.
The biggest beneficiary will be state-owned NTPC, which is expected to commission over 2,000 MW of capacity in the current fiscal. The move would also benefit projects of Sterlite, Indiabulls, Jindal Power, GVK Power, Essar Power, Bajaj Hindustan, Vandana Vidyut, Haldia Energy, Torrent Power and Hinduja national Power. Reliance Power's Sasan UMPP will also benefit.
According to official sources, while the coming Budget is likely to extend the Section 80-IA benefit to power plants getting commissioned in current fiscal, a