The fiscally stressed Centre's recent decision to annul subsidy on bulk diesel has shaken up the perennially loss-making public sector road transport corporations (RTCs) in the country. State governments, the patrons of these entities, which together own 1.5 lakh buses and play a vital economic function by contributing to the mobility of people and goods, have firmed up disparate strategies to salvage the situation. FE has ascertained whether and how the RTCs have taken the sudden 20% hike in diesel cost in their stride (fuel costs account for close to a third of the operational expenses of RTCs, which hardly recover their costs yet dole out a plethora of concessions to commuters at the bidding of populist state governments).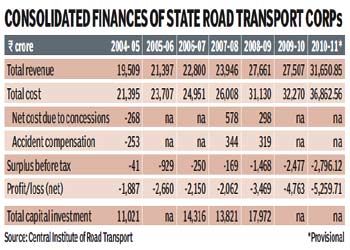 It is clear that the Centre's decision to allow state-run oil marketing companies to sell diesel to bulk consumers at market prices (that cover the OMCs' costs and mark-ups) has caught most RTC managements off-guard.
Following the decision, RTCs have approached the state governments for succour and the pleas have been heeded: In some cases, maybe, for the good as the response could be in the form of waking up these entities to market realities, but in most cases, with the likely consequence of an exacerbation of their finances and operational standards.
For Congress-run state governments, the immediate reaction is to give their RTCs the assurance that they would try to get the Centre's decision revoked or obtain a special waiver.
The Opposition-ruled ones — notably the Gujarat and Tamil Nadu governments — have sought to defy the Centre's policy and allowed RTC buses to make a beeline to public and private-sector oil companies' retail outlets, where the prices are 20% less. This has resulted in a surge in retail sales of diesel in many regions.
Tamil Nadu, which has eight state transport corporations operating 21,207 buses, has been more vocal in decrying the Centre's policy and has now threatened to challenge it in court. In his customary address in Tamil Nadu assembly on Friday, governor K Rosaiah said: "The Centre's diesel policy has resulted in a sharp 23.75% increase in the fuel costs again, of Rs.744 crore per annum, adding up to a total annual increase of Rs 1,127 crore within four months, forcing the STUs (state transport undertakings) to the precipice of financial disaster. This government has decided to challenge this dual pricing policy of the central