Murphy's law has played out. We upgrade GAIL to Buy from Add with a revised SOTP(sum-of-the-parts)-based target price of Rs 520 (R450 previously) based on FY16 estimates. We see Gail as an excellent play on India's gas story and find its valuations reasonable with the stock trading at 12x FY2015e EPS. Gail's net profits can increase meaningfully on higher gas volumes while they currently discount low transmission volumes, higher gas prices, under-utilised pipeline capacities and regulated pipeline tariffs.
Strong growth in net profits: We expect Gail's EPS (earnings per share) to increase to R43 in FY17 from R32.6 in FY14, led by (i) an increase in gas transmission volumes to 123 mcm/d from 96 mcm/d (million cubic metre per day) in FY14, (ii) nil under-recoveries, (iii) higher polyethylene volumes (0.9 million tonne from 0.45 mt), and (iv) steady profitability of the gas trading segment. Gail's pipeline tariffs have already been reduced to regulated levels by various orders of the regulator.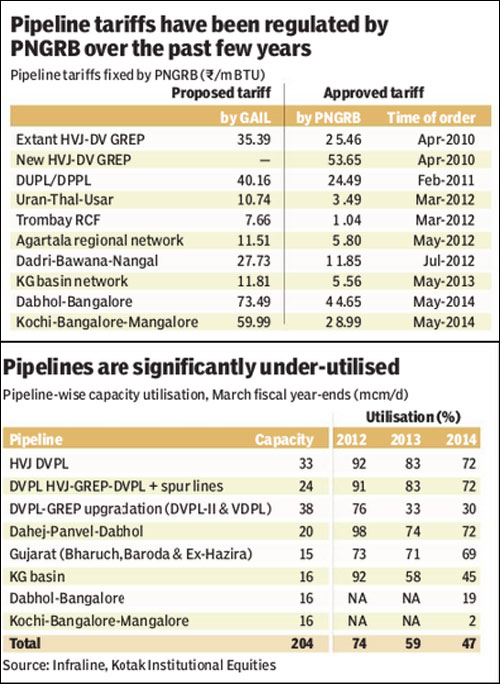 High operating leverage in transmission: Gail's pre-subsidy Ebitda declined to R86 bn in FY14 from R93 bn in FY12 due to lower gas transmission volumes while interest and depreciation increased to R15.4 bn in FY14 from R9.1 bn in FY12 due to commissioning of several new pipelines. However, Gail's new pipelines are under-utilised due to the current shortage of gas.

Also, its pipeline tariffs have been reduced to comply with the November 2008 regulations of the PNGRB. Thus, Gail's Ebitda could increase sharply if gas volumes increase.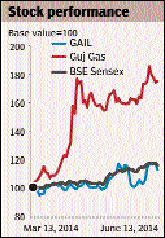 Increasing valuation: We increase the multiples of Gail's LPG and petrochemical segments to 5-6x Ebitda from 3-4x previously. We had used low multiples for the segments previously to factor in risks from continued high subsidies. However, we no longer see the need to build in low multiples since we factor in a normal scenario of (i) market-linked natural gas prices for the LPG and petrochemical segments and (2) nil subsidies for Gail from FY16 onwards. The government appears committed to reducing subsidies and to raising natural gas prices. Overall fuel subsidies will decline meaningfully over the next two years.
Higher gas prices and lower subsidies: We note two countervailing drivers to Gail's net profits over the next two years. We expect natural gas prices to increase, which is negative