Buyouts as private equity (PE) investment options are likely to see a significant rise in coming years as PE funds look for greater control of companies they invest in even as promoters, too, become more willing to part with their non-core businesses, believe experts.
Buyout deals, which involve investors taking over a majority or controlling stake in a company, have in the last four years seen a tremendous rise in terms of deal value, rising from 3.7% of overall PE investments in 2010 to 27.3% (or $1.99 billlion) in 2013, points out the latest PE report from global audit and consulting firm PwC.
The report, which is based on inputs from nearly 40 general partners (those who manage PE funds), highlights that buyout activities will not only go up, but might emerge as the biggest investment option in India by 2025.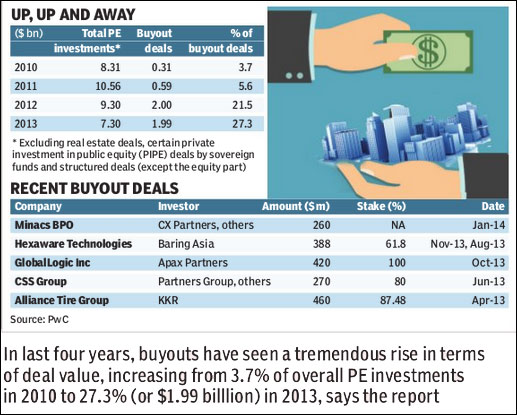 "We see a lot more buyout activity going ahead as the next generation of entrepreneurs has become more mature and is less emotional about their businesses, thereby offering more opportunities for PE firms who specialise in buyout deals," says Sanjeev Krishan, leader of the private equity practice at PwC in India.

The year 2013 was one of the biggest for large deals, with several PE firms specialising in buyouts taking over target companies, mostly in the IT space. The major ones included KKR buying out 87.48% of equity capital in Alliance Tire Group for $460 million and Apax Partners buying 100% of IT outsourcing firm GlobalLogic.

Shashank Singh, partner and head of India office at Apax Partners, lists out the factors contributing to the increased number of buyouts.

"Some of the large conglomerates are choosing to sell non-core businesses to focus on core areas. Secondly, in case of family-owned businesses, as they approach generational transition, the older generation may decide to sell off the business. Finally, in some cases, as the industry reaches maturity or enters a consolidation phase, slowing growth prompts some of the mid-tier players to part with their entire stake," he says.

The year 2014 has already seen buyout deals aggregating to $0.60 billion, involving PE players taking full or partial control of the target company. CX Partners, along with Central Square Partners, in January acquired Minacs BPO from Aditya Birla Group for $260 million while in February India Value Fund Advisors (IVFA) purchased 100% in National Bulk Handling Corporation, the warehousing arm of