Engineering major Larsen & Toubro on Monday said the Canada Pension Plan Investment Board (CPPIB) had agreed to invest over Rs 2,000 crore in its infrastructure arm, L&T Infrastructure Development Projects (L&T IDPL). The company said the partnership would help it to complete its ongoing projects.
This is the first direct private investment by a Canadian pension fund in a domestic infrastructure development company, group chief financial officer R Shankar Raman said.
A wholly-owned subsidiary of CPPIB, CPP Investment Board Singaporean Holdings 1 (CPPIBSH), will make an initial investment of R1,000 crore, which will be followed by a second tranche of R1,000 crore, or a higher amount that may be agreed between L&T and CPPIBSH, after a year from the date of the initial investment, subject to required regulatory approvals at that time, L&T said in a statement.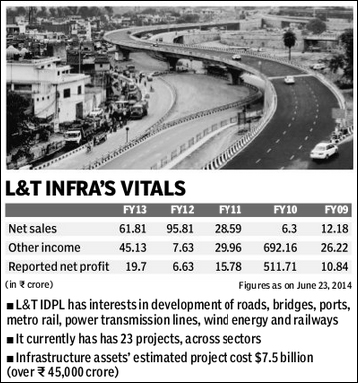 CPPIBSH will invest in preference shares of L&T IDPL, which are compulsorily convertible into equity shares by 2018 at a valuation to be determined as per a mutually agreed process. "Post-conversion, CPPIBSH will hold a minority stake in the equity capital of L&T IDPL," L&T said.
Commenting on the partnership, Shankar Raman said that in CPPIB, the company has found a partner with a long 20-30 year view on India, and is different from normal private equity funds that have restrictions of giving returns to investors after five years or so. He ruled out the possibility that CPPIB has been brought in with a view to do a stockmarket listing for IDPL anytime soon, giving a natural exit to the investor.
"We were looking for someone with long tenor liabilities, the likes of insurance companies, pension funds and sovereign wealth funds. We feel that to take advantage of infrastructure development in India over the next 15-20 years, L&T's balance sheet at some point in time will become insufficient. To supplement our own resources we have been looking out for people and of the several conversations we had, we were able to progress with Canadian Pension Fund to reach this stage where we have signed a definitive agreement," Raman told FE.
André Bourbonnais, senior VP (private investments), CPPIB said, "This transaction fits well with our strategy for India as a key long-term market. We look forward to partnering L&T and L&T IDPL's experienced management teams..."
L&T IDPL has business interests in the development of roads and bridges, ports, metro rail, power