Shares of capital goods companies were in focus on Wednesday with a number of capital good makers reporting quarterly earnings. While better than expected results of ABB India lifted some stocks, dismal results of BHEL capped the rally.
ABB rallied as much as 11% in intraday trade after the company reported a more than 70% y-o-y jump in its quarterly profit to Rs 35.6 crore due to cost cutting and streamlining of operations. The stock ended the session at Rs 645.25, up Rs 15.85, or 2.5%. Even Siemens, along with smaller capital goods players like Sadbhav Engineering and Jindal Saw, rallied 6-10% in the intraday session before closing with gains of 2-3%.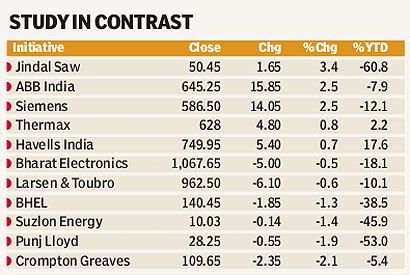 BHEL and Thermax, which traded with moderate gains for most part of the trading session, witnessed selling pressure after BHEL reported y-o-y decline in both its September quarter sales as well as net earnings.
The capital goods major said its quarterly profits fell 64% to R456 crore while its topline contracted 15% to R8,819 crore. As per a Bloomberg compilation, consensus estimates for BHEL's net profit stood at R872 crore, depicting a decline of nearly 26%. BHEL closed the session down 1.9% at R140.45.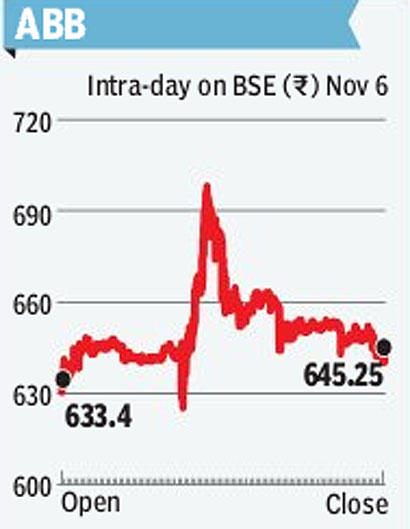 Meanwhile, Thermax also gave up its 3.3% intraday gain to close at R628, up 0.8%. In a late evening release, Thermax reported a 67% decline in its net profit to R30.2 crore on the back of a 12% decline in its sales.
The weak earnings performance from companies like BHEL and Thermax could mean that the cautious stance on capital goods stocks will continue, with analysts citing concerns over the lack of new orders and slower execution of existing orders.
Sector leaders, including L&T, Siemens, BHEL, Crompton Greaves and Punj Lloyd, have lost 5-50% of their value this year even as the benchmark Sensex rallied more than 7.5% in 2013 so far. Excluding L & T, 70% to 90% of analyst recommendations on rest of these stocks is either to "sell" or "hold".