Encountering a roadblock in the narrow streets of old Delhi can be a nightmare. You cannot reverse your car, you cannot move it ahead, and you cannot turn it around. Except, if you are in a car that has a turning radius of just 4 metres, and that turns others on with its new looks. Welcome to the new Tata Nano Twist.
Promoted as a value car, it is precisely this thing that worked against the Nano ever since it was launched in 2009. Two-wheeler owners, who aspired to own a car and raised enough money to buy a Nano, usually reconsidered their decision, waited a bit, raised more money and bought an Alto instead. The good thing is that, with the Twist, Tata is now aiming to reposition the Nano not as a value car but rather a fashionable and urban youth mobile.
Exterior
The Nano remains a cute-looking car, no doubt about it. So it's perhaps a good thing that the Nano Twist doesn't get any major changes to the exterior. You should go and check out the new purple colour, though, which looks cool. Although alloy wheels are not a standard fitment on any of the Nano variants, these are available as accessories at Tata dealers and can be considered.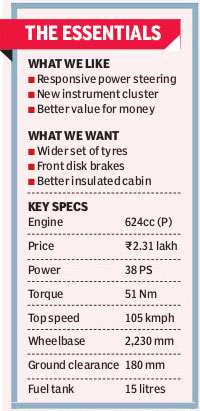 Interior
There are subtle and smart changes in the cabin. First, you get keyless entry. Then there are twin gloveboxes on the dashboard—one is inconveniently placed between the steering wheel and the windshield but is nevertheless useful. The audio system now comes with Bluetooth connectivity and the speakers are among the best in class. The positioning of the steering wheel, though, can be an issue with tall drivers—what makes things slightly uncomfortable is that the steering wheel is not adjustable. You also get a revised gearshift console and the front power window buttons are situated right behind the gear lever. If you overlook the boot space for a while, the Nano Twist offers the maximum amount of space in its class and even four tall people can very easily fit inside the smallest production car in India. (A small luggage space of 80 litres is provided in the Nano behind the rear seat.) The fabrics and overall fit and finish, though, still reflect that even this finest Nano has been build to a price. The centrally-located information cluster looks fresh—you get a digital