Cement companies have so far reported better-than-expected double-digit volume growth for the June quarter, driven by delayed monsoons and a lower base, even as growth in realisation remained moderate on account of the adverse demand-supply scenario.
Aggregate volume growth for seven cement companies — that have reported June quarter results so far, and account for 40% of total cement demand in India — stood at 10.2% y-o-y. After having witnessed poor 3% growth last fiscal, volumes gained from improved sentiment after the elections. The lower base of last year too helped. The growth in volumes is in line with the cement industry's production growth of nearly 8% in the first quarter of fiscal 2015.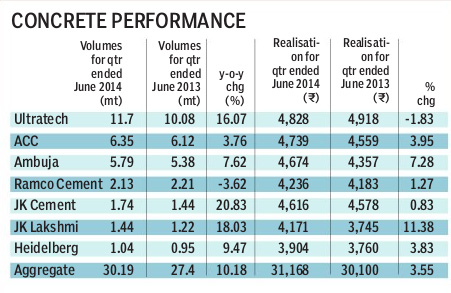 Firms like Ultratech, JK Lakshmi and JK Cement, which have stronger presence in North and West India, benefited most from the pick-up in construction activity and capacity additions as they reported volume growth of 16-21% y-o-y. Pinakin Parekh, analyst at JP Morgan, believes the large volume growth for Ultratech was driven by poor monsoons in June, allowing construction activity to go on, as well as market share gains in North India on account of supply disruptions from Binani Cement.
However, players like Ramco Cement and ACC (whose 41% of capacities are based in South) saw volume growth of -3.62% and 3.76%, respectively, highlighting lower demand in south.
In terms of pricing, cement players have seen only marginal benefit with aggregate blended realisations for cement companies rising 3.55% y-o-y. Realisations were helped by delayed monsoons and also on account of price hikes taken during the quarter.
Ambuja Cements too reported an over 7% rise in realisation on the back of nearly 70% revenue coming from North and West region.
Pricing discipline and improved sentiment in Andhra Pradesh seem to have helped Ramco Cement, which reported 4% q-o-q and 1.3% y-o-y increase in realisations. Prices in South India rose on average by 6% q-o-q in the June quarter, as they shot up by nearly R70-100 in June to R330-350 per bag, according to a Goldman Sachs sector report released earlier this month.
Currently, domestic capacity utilisation for the industry stands close to 70% with domestic annual demand of 250-260 mt even as the installed production capacity stands closer to 360-370 mtpa.
Thogh capacity utilisation seems to be inching up, cement companies, have not been able to reap the benefit of improved volumes — higher input