Setting the stage for his maiden Budget, finance minister Arun Jaitley on Wednesday tabled the Economic Survey FY14 in Parliament, featuring the government's plan to unleash the economy's productive capacity with an impressive array of reforms, ranging from the farm sector to infrastructure financing, energy and taxation. Leading by example, Jaitley may announce a central goods and service tax (CGST) that combines excise duty and service tax as a precursor to a full-fledged GST where principal state taxes would also be eventually subsumed.
"Once CenGST is implemented and the information technology system for it has worked, (revenue) estimation risk will be lower and it will be easier for the Centre and the states to move to the GST," said the survey.
Written by a team of senior economists at the finance ministry, this edition of the annual survey tended to be more realistic in its assessment of the state of the economy and prognostication than several previous ones — "a reversion to a growth rate of 7-8% can occur beyond the ongoing and the next fiscal" — and lamented the "resource preemption"by the government that constrains external financing for the private sector.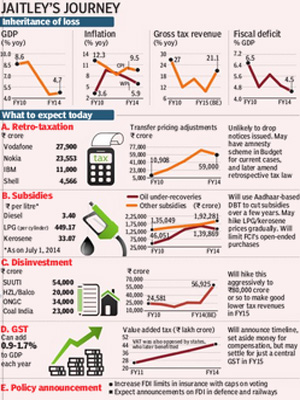 It pitched for new fiscal prudence legislation with teeth (the extant one, enacted in 2003, has been virtually violated several times as the previous two governments went with political expediencies), while admitting that last year's fiscal deficit reduction (to 4.5% of GDP) was achieved with "lower-than-expected expenditure". This, analysts said, signalled that Thursday's Union Budget would likely revise the deficit estimates for FY14 upwards to present a less concealed picture of central government finances. Stating that the fiscal situation of the central government is "worse than it appears", the survey said the situation warranted a fresh thinking on a responsible fiscal policy framework. "The modified FRBM Act needs to take into account business cycles and to have penalties that are strong enough so that it can't be ignored," it said.
According to the survey, the country needed to urgently revamp its major social sector schemes, including on rural jobs, health and education, as outlays for them are not being translated into outcomes because of a poor delivery mechanism. It also proposed a greater role for private players and detection of pilferage and ghost beneficiaries through effective use of technology. The country's corporate tax rate of 30%, the survey said, could be brought down